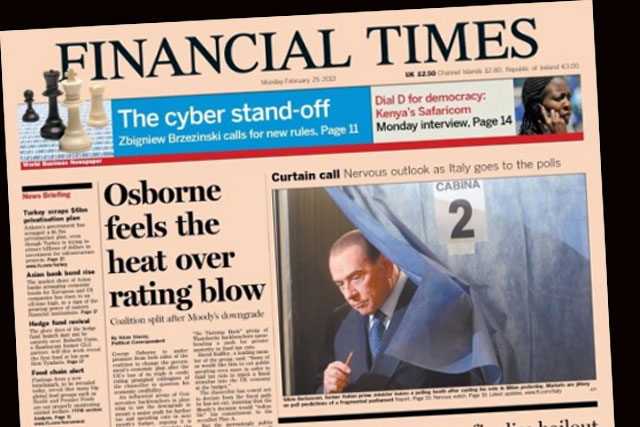 Following publication of Pearson's 2012 results this morning, Fallon said the FT was not for sale and that Pearson, which is now largely an education business, had not initiated, encouraged or participated in any sort of sale-related process.
There has been much speculation that the FT would be sold following the departure last year of former Pearson chief executive Marjorie Scardino, who had previously said the paper would be sold "over her dead body".
Adjusted operating profit at the FT Group – which includes the financial intelligence division Mergermarket and Pearson's 50% ownership of The Economist – was £49m in 2012, a decline of 35.5% year on year.
It is understood that the decline in operating profit is largely to do with the sale of FTSE in December 2011, and costs related to the FT's investment in digital and restructuring.
According to Pearson's results, advertising now accounts for 39% of all FT Group revenues, down from 52% in 2008. The company said advertising was "generally weak and volatile" with poor visibility.
However, Pearson said the FT grew its market share in 2012 and experienced ad growth in mobile, luxury and business education sectors.
Digital services and revenues now account for 50% of all FT Group revenues, up from 31% in 2008, while 61% of all revenues were from content, up from 48% in 2008.
Pearson said the FT's digital subscriptions increased by 18% to almost 316,000. Mobile devices now account for 30% of FT.com traffic and 15% of new subscriptions.
The FT's total paid circulation was more than 602,000 across print and online, and digital subscriptions exceeded print across a full year for the first time, confirming the trend first set in Pearson's half yearly results in July 2012.
John Fallon said: "I've been absolutely clear. I've said that the FT is a valued and valuable part of Pearson. I have said the business is not for sale. Nor have we initiated, conducted, encouraged in any shape or form any process whatsoever. Nor have I had any conversations with anybody about a sale of the FT."
Follow @MaisieMcCabe