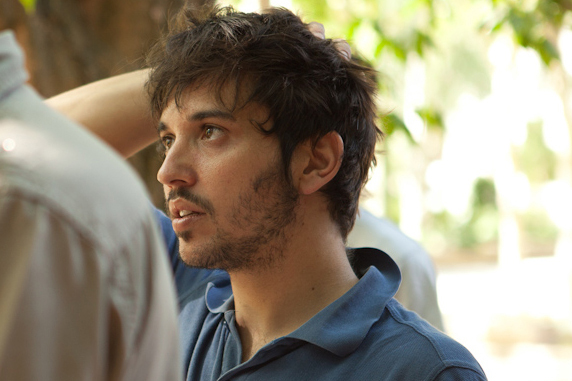 Blink's Pedro Martin-Calero made his directorial debut in advertising just one year ago with Honda's award-winning "Up" spot. Since then he has become one of the industry's hottest young directors, taking on work for BT Sport, a music video for The Weeknd, and most recently a Trainline campaign for which he shot a cinematic spy chase through a railway station.
Martin-Calero tells Campaign what he's learned in his first year on the job, his advice for those trying to break into directing, and why he could never be a flamenco dancer.
Why did you want to become a director?
Since I can remember I have always loved and been obsessed with film. I kind of always wanted to be a director; it was always in my mind. Sincerely I don't know what else I could do…. Maybe I could be a flamenco dancer? Mmm… I think not.
How did you get into directing and sign to Blink?
When I was quite young I thought the fastest and straight way to learn the language of film was to study at cinema school. But I was aware that no one could teach you how to direct, it's something inside and is too personal to really be taught. So I studied to be a cinematographer to learn the visual technique and grammar of cinema in order to have a strong base of knowledge, which I thought would help me to direct.
I worked for a short time as a cinematographer after college but quickly felt I had learnt as much as I could from other directors – in fact mostly I felt I was learning what I shouldn't do. I was desperate to make my own films and I started making my own work in any way I could.
One of my first pieces of work was a super low budget music video called "Blanc". It soon became a small cult thing on the Internet. Paul Weston, who had just become executive producer at Blink, was looking for new directors, saw it and signed me. I was so lucky, I hope he feels the same and doesn't live to regret it.
When you made your first ad (Honda's "Up"), what was the brief, what were the challenges, and how did you make it a success?
[The brief] was really tricky. I remember when writing the treatment finding it a real challenge to visualise such an abstract idea clearly.
The main challenge was making that mountain and the climbing interesting and cinematic, making something that felt visually different to other commercials I had seen. Even though the mountain was not real the climbing was totally real; that was key. The goal was to make something that doesn't exist feel real.
I tried not to think we were making a commercial. It's weird to see an ad with almost no close-ups and medium shots; most of them are wide shoots. Also the sound is quite subtle and low, which isn't really the fashion these days. And you almost don't see the car! The whole thing felt like a very risky project but I think it worked and it does feel like something different.
What advice do you have for new directors trying to break into the industry?
Try not to copy. Try to find your own voice, something that will make you different from the two million and a half directors that are out there. Also insist and don't give up. When I started to pitch I think I lost almost 20 pitches for music videos in a row. It really wasn't an easy time, I had no money and had to move back in with my mother – she was even less happy about this than me. But in the end all that work made me a better director and I started to win pitches.
All that effort is worth it. When I think about that time now it makes me determined to make films and also determined to enjoy it.
What are some differences in how you approach making ads versus music videos?
It's not as simple as approaching projects differently because one is a music video, or one is a commercial, or one is a short film. I actually tend to approach them all with the same ambition; whatever the format I always try to make the film I would like to see as a viewer. If not I feel I'm not being honest and I don't enjoy doing it.
What are the biggest lessons you've learned since becoming a director?
A good director is a good listener. You never know who is going to say a brilliant idea that will improve the film. Also it's easier if you surround yourself with a good team and people you trust.
I'm now more confident. I can see problems coming ahead much faster than when I started. It makes me more efficient and helps me to focus on the important things. But I also want to always be improving and learning. No two jobs are the same.
What are the creative principles you always stick to when working?
As I said before, the main rule is to try to do what I would love to see as a viewer. Also try to avoid what is normal or ordinary, it's the only way to be original. It makes your life harder but it's worth it.
What's your dream project?
Free creativity and no budget and time limits – I know that's impossible but that's my perfect dream project. Directors are megalomaniacs… and I guess I am too.
What's next for you?
I've sold a feature script to a North American production company. We are now finding the funds. I'm also pitching on two big commercials that could be amazing. Fingers crossed.