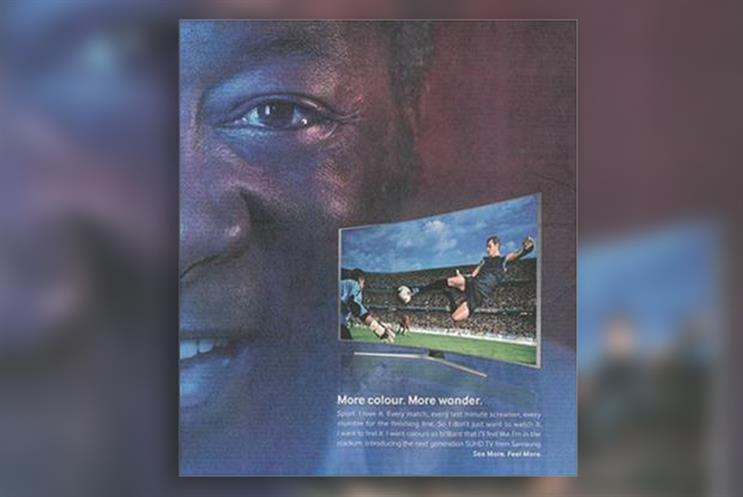 Pele sues Samsung for $30m over use of doppelganger in ad
Pele, the world's most famous footballer, is suing electronics giant Samsung for $30m (£21m) over the latter's use of a lookalike in an ad for high-definition TVs.
The Brazilian football icon has filed a legal challenge at the US District Court in Chicago, claiming that the ads, which appeared in the New York Times improperly used an image that resembled him.
The ad does not name Pele but includes the face of a man who "very closely resembles him", while a smaller image of a widescreen Samsung television shows a (white) man performing a scissor-kick, a move made famous by Pele.
Pele make much of his income through product endorsements and the complaint states that Samsung's ad will damage the value of his endorsement rights and imply to consumers that he is a Samsung endorsee.
Source: BBC
GSK relaxes patent laws to allow poor nations to copy its drugs
GlaxoSmithKline has announced that it will not patent drugs in developing and low income countries, so it can provide cheaper medicine to more of the world's poor.
The company described the move as part of a "graduated approach to intellectual property", and said such a measure would free the way for "generic companies" to make lower-priced imitations of its own drugs.
Sir Andrew Witty, GSK's chief executive, said: "The changes we are setting out aim to make it as clear and simple as possible for generic manufacturers to make and supply versions of GSK medicines in LDCs, LICs and most LMICs."
Source: GSK
Catch up with some of our longer reads...
It's tempting (and useful) for marketers to put people in neat demographic boxes. But, as consumer lives become more fluid, age-agnostic and globally minded, is it time to put a stop to generational generalisations, asks Rebecca Coleman.
At a time when parenting is endlessly interrupted by digital communication and social media, brands must beware of exacerbating the pressure on women, writes Nicola Kemp.
If you watch one video today...
...hear what the public think of the Conservative government spending £5m to promote the new National Living Wage.