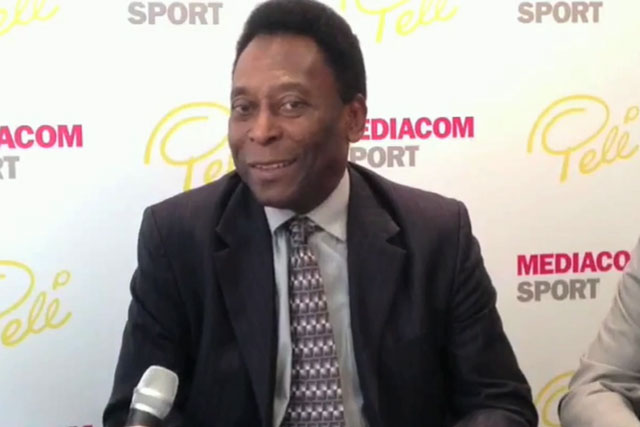 By bewitching football and winning three World Cups with Brazil, starting with its first in 1958, Pelé achieved enduring global fame for himself and his nation.
Last night it gave him a cameo as part of the eight minutes it had in the Olympic Games Closing Ceremony to wow the crowd and offer a preview of 2016, much like Britain did with Beckham four years ago in Beijing.
Not a few brands have borrowed some of his personal appeal, which he has sustained beyond his sporting career with UN environmental and humanitarian ambassador roles. The roll call includes MasterCard, Puma, Louis Vuitton and of course, Viagra.
But as his 196 million compatriots prepare to host not just their first ever Olympic Games but their first World Cup since 1950 in two years' time, the threads between the man, the country and commercial opportunity are more intertwined than ever.
"I have worked for Brazil since I started to play football," the sprightly 71 year-old claimed in our interview on Friday, the day before his country surprisingly failed again to win its first Olympic gold medal in his sport.
It is hopefully not an omen for Brazil's coming turn in the limelight, which seems destined to propel it further up the ranks of global economies as well as attract the attention of legions of brands.
The world's sixth-largest market for advertising spend, according to ZenithOptimedia, is predicted to grow from $16bn in 2011 to $19.9bn in 2014, putting it close behind the UK.
The country last year appointed Pelé as an ambassador for the 2014 World Cup and describing it as an "opportunity to show the world Brazil is not only good inside [on] the field", he comes across much like a tourism minister.
"I think my role is to tell the people now they're going to see Brazil outside [off] the field too. Because what is important to us now is to - open the heart for them. Inside the field Brazil is the best, but we must to know [be known as] the best outside the field too, as a country who receive people."
The official role has not stopped him from worrying candidly about the pace of preparations. His comments last year that the country was not yet ready were repeated in regard to construction and transport links at his press conference on Friday, though he tempered them by adding there was still enough time to be ready.
The press conference was called to announce, in not so few words, that all brands who want to feature the star in advertising and promotions will have to deal with him through MediaCom for the next four years.
Having been introduced to the media agency by his new agent, Pele seems happy to trust it to refashion his image. He said: "They gave me the opportunity to see the new Pele without mistake because a lot of country of the world the people they misunderstand me."
The agency's global head of sport, Marcus John, said he had no deals to reveal yet but expects one within three to four months.
The list of brands associated with the World Cup and Olympic Games already exceeds 30, before the domestic Olympic slots are fully sold, with Coca-Cola (which Pele has advertised in Brazil), McDonald's and Visa sponsoring both events.
So what does Pelé make of the influx of global brands to his country and does he believe that sports sponsors have a role in addressing the social inequalities there?
The topic gets a little scrambled in translation, but it's clear that he wants his country to use its own economic and agricultural strength to help its poor, while capitalising on opening up to investment from foreign brands.
"It's important for people all over the world to know Brazil is a brand open for opportunity, open for business. It's a rich country, we have everything to do it," he said.
"Unfortunately disadvantaged people we have all over the world. China is the same you know, Africa is the same. In Brazil we have problems but I think the country is a rich country, we can work more to look for those people.
"Of course [sponsors of the World Cup and Olympics can help]. They have a good opportunity to invest in the country to be part of this and help the poor people. This is I think the main thing we will need to receive the people and open the door for them to see the opportunities but this of course always to look to the poor people."