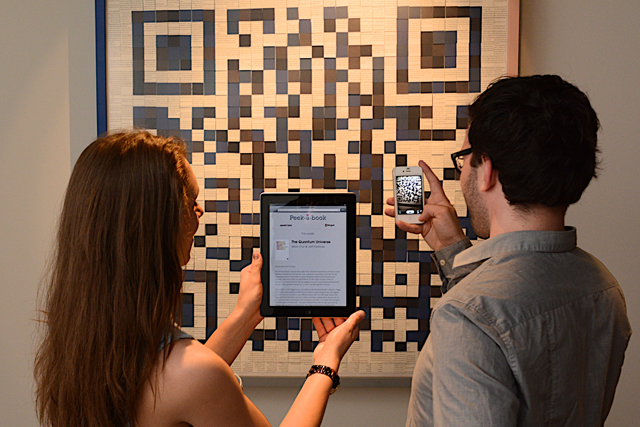 The Peek-a-Book activity by Shoreditch-based agency Homebrew is running in the Apostrophe café on Brewer Street, London.
It combines work by London artists with free excerpts from famous books, which visitors to the cafe can download.
The 3D artworks are shaped to resemble QR codes and have been made out of recycled books to demonstrate the mix of old and new technologies used in the activity.
The five pieces of art are each based on different literature genres – London tales, culture, science, stories and big ideas.
Visitors can download a free QR code reader at the exhibition and use it to scan the artworks to receive their clip, chosen for the exhibition by Penguin.
Books picked for the activity include 'The Quantum Universe' by Brian Cox, 'Oh Dear Silvia' by Dawn French, 'Grimm Tales' by Philip Pullman and 'Tomorrow's People' by Susan Greenfield.
A new book will be made available every week for each genre.
Amir Chen, owner of Apostrophe, said: "Peek-a-Book brings us back to our inspirational roots, providing a digital sampler of great stories and big ideas for our customers while they enjoy our food and drink."
Anna Rafferty, digital managing director at Penguin UK, said: "Penguin is always looking for the most creative ways to bring writers and readers together. [The activity] gives an immediate taste of some of our most celebrated authors in an original and eye-catching way."
The exhibition opened yesterday and runs for 12 weeks.