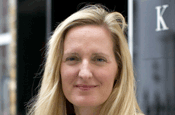 Working closely with Will Orr, the recently-appointed chief executive, she will take responsibility for the day-to-day running of the agency.

Herriman has been at BBH for ten years, and has run accounts including Vodafone, Unilever and Barnados. She was previously the head of account management and holds a seat on agency's board.

Will Orr, the chief executive of WCRS, said: "Penny's track record speaks for itself and I'm delighted that WCRS and its clients will now benefit from her huge talents."

Herriman added: "BBH is a place to learn about advertising excellence and my time there has been invaluable. I didn't expect to ever leave, but this role was too exciting to turn down.

"The team at WCRS has an impressive ambition and vision for the agency."