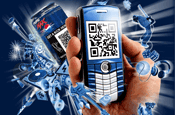 Britvic and PepsiCo plan to put the QR codes on 400 million cans and bottles.

Consumers can take a picture of the code with their mobile phone camera, which will automatically redirect them to a WAP site. Here, they will receive entertainment, or a kick, on their mobile phone.

The prizes include advice from life coach Rusty Champion, Pro Evolution Soccer and Project Gotham racing games, ringtones and wallpapers. Frequent visitors will be rewarded for their loyalty with exclusive content.

The QR codes will feature on all Pepsi brands, which include Pepsi, Diet Pepsi and Pepsi Max.

Ahmed Abdel-Karim, the marketing manager for Pepsi UK, said: "Pepsi is using QR codes to connect with, and engage, consumers in a new and exciting way wherever they are."

QR codes have been used by advertisers in Japan for a number of years.