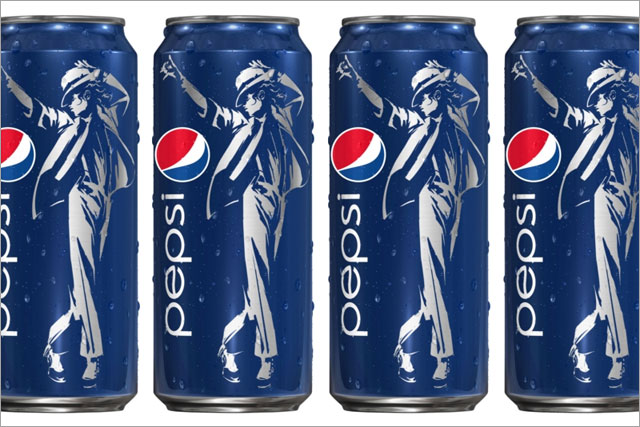 PepsiCo has struck a global partnership with the estate of Michael Jackson, who died in 2009.
The activity will go live in China this week, before rolling out globally. The promotional work will feature different silhouettes of Michael Jackson on limited edition Pepsi cans, alongside the 'King of Pop' strapline.
The work is part of Pepsi's 'Live for Now' campaign, the brand's first global campaign that launched in the US earlier this week.
It will include competitions across each market that offer consumers the opportunity to win limited-edition merchandise, and tickets to Cirque du Soleil's 'Michael Jackson The Immortal World Tour'.
Celebratory projects are also being planned by Sony Music and the Estate of Michael Jackson to celebrate 'Bad''s 25th anniversary.
Pepsi first teamed up with Jackson in 1983 for the 'New Generation' campaign, after which, the soft drink brand sponsored the 1988 'Bad' tour.
Jackson then appeared in Pepsi's 'Chase' campaign.
Frank Cooper, chief marketing officer, global consumer engagement, PepsiCo, said: "Michael Jackson will always be the king of pop, and his music has always inspired fans and artists alike.
"This partnership goes beyond nostalgia and will engage with consumers all around the world with iconic imagery on more than one billion Pepsi cans, digital content and epic, live events, so that they can continue to connect with Jackson's music and honour his legendary impact on entertainment."
Follow Loulla-Mae Eleftheriou-Smith on Twitter @LoullaMae_ES