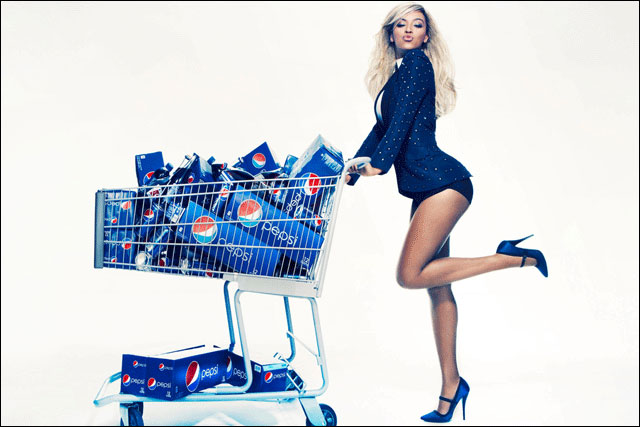 The deal is reported to be worth $50m (£31m).
PepsiCo claims the tie-up will be a "wide-ranging collaboration" between the Pepsi brand and Beyoncé, working together to co-create content and experiences.
Brad Jakeman, president of PepsiCo's Global Beverages Group, said: "Beyoncé, who continually defines and redefines what 'now' means for her millions of devotees worldwide, is the perfect partner and ambassador for Pepsi." The upcoming work will be the singer's fifth ad for Pepsi since 2002.
The New York Times reports that Beyoncé will not only appear in a TV commercial under the 'Live For Now' global marketing push, accompanied by extensive digital work and a limited edition can with the singer's face printed on it, but that the collaboration includes a multimillion-dollar fund to support Beyoncé's chosen creative projects.
The campaign is expected to roll out alongside Beyoncé's new album, expected in early 2013, although a release date is yet to be confirmed.
Beyoncé said in a statement: "Pepsi embraces creativity and understands that artists evolve.
"As a businesswoman, this allows me to work with a lifestyle brand with no compromise and without sacrificing my creativity."
Pepsi's 'Live For Now' campaign has already involved the brand signing up boy band One Direction, with NFL star Drew Brees and previously Nicki Minaj.
Its other brand ambassadors include footballers Frank Lampard and Lionel Messi.
Beyoncé has been in partnership with Pepsi since 2001, including appearing in ads for the brand.