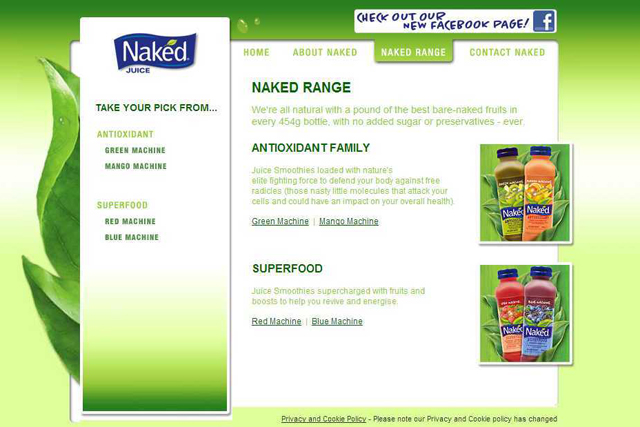 Text on www.nakedjuice.co.uk stated: "We're all natural with a pound of the best bare-naked fruits in every 454g bottle, with no added sugar or preservatives – ever."
Underneath the text and the heading "Antioxidant", the brand claimed: "Juice Smoothies loaded with nature's elite fighting force to defend your body against free radicals (those nasty little molecules that attack your cells and could have an impact on your overall health)".
One consumer complained whether the brand's claims were authorised on the EU Register of Nutrition and Health Claims for Foods.
Naked Juice countered that the term "antioxidant" was a non-specific, general health claim authorised on the EU register and that its Green Machine and Mango Machine products both contained high enough amounts of vitamin C to state that it is an ingredient.
It said guidance documents from the EC Commission and Department of Health allowed for flexibility in the wording of health claims, and that Vitamin C has recognised antioxidant qualities.
However, the Advertising Standards Authority banned the ad, stating that only the health claims listed as authorised on the EU register were permitted in marketing communications.
The ASA called the terms "antioxidant" a specific health claim, and said the phrasing "defend your body against free radicals" implied complete protection for the body.
The ASA said this exaggerated the health claim and the site's wording must not appear in its current form.