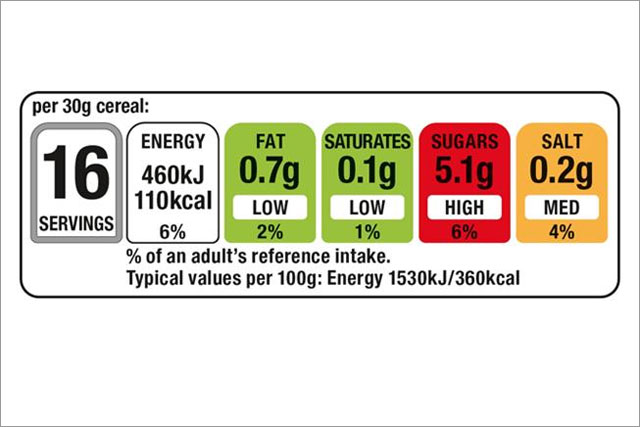 However, Kellogg's and Cadbury-owner Mondelez International, both of whom did not respond to requests for comment from Marketing, were notable absentees from the list of 26 brands (see full list below) agreeing to sign up to the scheme, which is the basis for a new Responsibility Deal pledge. Coca-Cola is another firm that did not sign up.
The move to a standard label follows years of bitter wrangling over the best system for front-of-pack nutritional labelling, pitting the Food Standards Agency, which promoted a traffic-light scheme against big food companies, who preferred to use a system based on nutritional guideline daily amounts.
Kellogg's, in particular, ran a vigorous lobbying campaign against the traffic-light system, fearing that it would demonise many of its cereals as they would score a red grading.
However, today the Government has unveiled a system that uses both traffic-light colour coding and nutritional information to show how much fat, saturated fat, salt and sugar, and calories are in food products.
UK government departments working with the food industry, health NGOs and other partners worked together to agree the proposed system and what the label would look like.
Premier Foods and the big supermarket chains, as well as Marks & Spencer, have also pledged to use the scheme, meaning that more than 60% of the food sold in the UK will carry the label. Nestlé is another signatory, although it will not roll out the label to its single serve chocolate bars.
Anna Soubry the public health minister, wants o see more manufacturers signing up to use the new label.
She said: "We all have a responsibility to tackle the challenge of obesity, including the food industry. By having all major retailers and manufacturers signed up to the consistent label, we will all be able to see at a glance what is in our food.
"The UK already has the largest number of products using a front of pack label in Europe but we know that people get confused by the variety of labels that are used. Research shows that, of all the current schemes, people like this label the most and they can use the information to make healthier choices."
Janet Taylor, diet and health manager for The Co-operative Food, echoed the minister's views.
She said: "For this to succeed, it's essential that the food industry as a whole, including manufacturers, adopts this approach."
The development was also welcomed by Richard Lloyd, the executive director of consumer group Which?, who said: "With levels of obesity and diet-related disease on the increase, it's vitally important that people know what is in their food, and this labelling scheme will encourage food
Companies signed up
Adelie Foods Group
Aldi Stores Ltd
Asda Stores Ltd
Bernard Matthews
Boots
Britvic
The Co-Operative
Hain Daniels Group (New Covent Garden Soup)
Iceland Foods
Lidl UK
Lockwoods (Mushy Peas)
Marks and Spencer
Mars UK
Mash Direct
McCain Foods
Morrisons Ltd
Moy Park (Poultry)
Nestle UK
Ocado
PepsiCo UK
Premier Foods
Sainsbury's
Tesco Food Stores Ltd
URBAN eat
Waitrose Ltd
Young's Seafood Limited