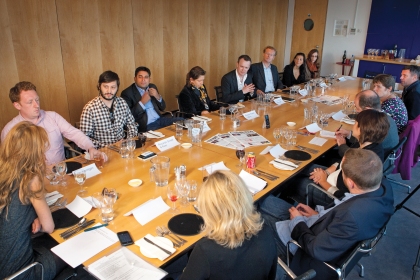 For some time an intellectual exercise, integration is becoming more vital for clients as the complexities of marketing communications increase. You know the pitch: fragmented media landscape, ever more elusive consumers, and more and more touchpoints to cover in the space of one campaign. No wonder clients and agencies are still talking about integration.
But what does integration mean in 2011? Do agencies and clients mean the same thing? And do consumers know or care about it?
According to Paul Davies, the director of marketing communications at Microsoft, marketers are in the middle of a perfect storm, with media fragmentation, the rise of digital and social marketing and changing consumer media diets.
"Half of consumers have a laptop on their knee while watching TV. Integration is about finding the right blend of communications," he says. "But it's an exciting, if challenging, time."
For agencies, integration is tough because they are still designed by discipline, Davies says: "The lines are blurring, but I'm still working with a PR agency, a media buying agency, an ad agency and a social agency. An idea can come from any of them and my job is to manage those parties. They come together as a team and I have to delineate the roles and responsibilities."
Such teams require new skillsets from clients, but it also asks a lot of agencies, Ian Kerrigan, the executive creative director at Gyro, says: "There are in-built vested interests that cannot be agnostic or collaborative."
Stephen Maher, the chief executive of MBA, says it's encouraging that the debate has shifted from whether integration is a "good thing" to how to deliver it: "We've agreed that brands have a single soul and voice at every touchpoint. We've moved on."
However, old turf wars over who can best deliver integration are still raging. Joe Rider, the managing director of Duke & Earl, says specialists in one area argue they can deliver subsequent parts, whether they're equipped to do so or not.
This is unsurprising, Claire Beale, the editor of Campaign, says. To do otherwise would risk agencies that come up with an idea not being paid for its implementation.
Davies recognises the situation: "It's being clear about the delineation of roles and responsibility. It is difficult and will become more so as the lines between agencies disappear."
One area where integration has the most potential to go wrong is remuneration. How do you work out who gets paid for what?
On one level, it's argued that a single profit and loss keeps things simple - as at MBA. It has "architects" who come up with the big ideas and "developers" who have the specialist knowledge to deliver it. "It is often a criticism of integrated agencies that we don't have the depth of skills," Maher says. "We need two types of people: the open-minded people who will look across everything and then those who deliver it."
It's no longer just agencies that are trying to be one-stop shops. Media owners are going beyond a typical package, offering to make the ad, create ad-funded programming and provide a turnkey solution, Davies says.
"It's an exciting time to be a marketer because we are working with experts and anyone can come up with the big idea," he adds. "It's a meritocracy and we need to manage partners so everybody feels part of a team."
This puts a huge onus on the client to be the ringmaster. Anand Verma, the president of diversified services for the G14 cluster at IPG Mediabrands, says that, in the US, more corporations are introducing chief integration officers. While they deal with issues such as compensation and performance, they are also charged with determining what works. "The key to success is to fail and then learn quickly. There is not one model to live by," he says.
Davies says that, while he loves the concept, the reality is that UK clients are unlikely to create such a role when the workload could be shared.
Data is becoming especially important in rewarding agencies fairly in integration. Attribution modelling is helping clients manage this, Verma says. "Creative, data and technology are coming together. There is a massive opportunity to use data as the underlying platform to see where you get the best performance. If you optimise what you do, performance improves dramatically," he explains.
BSkyB is an example of what can be achieved, he says: "Five years ago, it had a separate e-commerce arm. Now, it's part of the sales and marketing organisation. That's a transformation that clients need to go through. Sky has done a lot of attribution modelling from online to offline, and it is one of the few broadcasters that can connect offline spend with its margins."
Getting this level of internal integration takes time, Robin Gadsby, the managing director of the integrated agency Forever Beta (who couldn't make it to the roundtable lunch), adds: "I worked with O2 at a time when 'sales' hated 'brand'. They thought it was all fluffy and didn't offer enough promotional clout. We had to try to get them to work together and, over time, 'brand' got powerful to the point where it became really joined up. But it's hard if you have a head of DM who wants to protect his own turf."
For Rachel Hatton, the planning director at Ogilvy Group, there is a challenge in measuring the long term and the real time: "Brand-building pays back over a long time. We need to be able to combine the two."
With some clients looking to see evidence of shared risk from their agencies, long-term measures are important, especially as they affect remuneration. The question of which data to use is now a strategic issue.
For Maher, this is a problem with the multi-agency model: "That's the flaw in the approach if clients want skin in the game. We all want to get paid for results, but who is responsible?"
Away from the numbers, it is a fact that people get passionate about their ideas. Does this inhibit integration?
Carl Ratcliff, the executive planning director at Elvis, said it can. "When you have a good idea, you don't mind collaboration, but you don't want people mucking about with it," he says.
For Kerrigan, agencies have to redefine what creative means: "You put a planner in with a creative, a digital person and a social expert and ask them to get on with it and break down the barriers. Unfortunately, this is most likely to happen in pitch mode."
Hatton says defining an idea clearly can create space for activation: "The nature of the dialogue becomes different when you have something you can coalesce around. It's more like creating editorial ideas than arguing about who had the idea."
Ultimately, consumers don't care where an idea comes from, and it is their behaviour and habits that should dictate communications. Riccardo Giraldi, the creative director at B-Reel, says agencies have to be more agile, as their structures quickly become dated as customer behaviour changes.
"On YouTube, there is a film of a young girl playing with an iPad. When she's handed a magazine, she thinks it is broken," he says. "You need to look at how people want to behave, whatever idea you come up with. What is integrated now will change - and the next thing is something that we are not even discussing yet."
This means that necessary skillsets have changed dramatically from a few years ago. Giraldi says the production house now needs engineers and product designers on its team.
Suddenly, agencies don't look like agencies any more, Rider concurs: "It's very different from five years ago. We don't have creatives or people who have an agency-type role."
Sarah Stratford, the strategy director at Archibald Ingall Stretton, says it's a misconception that agencies are not aware of the need to adapt: "Because something was does not mean it should always be."
At a time when clients are cutting fees, is there slack in the budget for specialism? Might this be an argument for integration?
Maher says it could be more effective than having ten agencies: "You are creating a dream team in one place."
Verma points out that, in a recession, the agency-client conversation turns from creativity to procurement. "The recession is driving digital faster than any other channel because of its measurability," he says.
Kerrigan says the great examples of integrated work driving results are not usually from the UK, where agencies are only given the chance to work on one piece of a client's business.
Agencies are understandably reluctant to challenge this status quo too much, Ratcliff says: "The average marketing director tenure is something like 15 months, so they don't have this in their sights."
At brand manager level, there is even less consistency, Gadsby says: "Accountants focus on the short-term quarters, and if things aren't going well, then heads will roll. But there needs to be a longer-term vision about brand and business. We present a three-year plan when we pitch and we can be shooting ourselves in the foot if the marketer only wants a three-month campaign."
Dr Kathleen Mortimer, a senior lecturer at the Northampton Business School, says that, to work, integration has to have buy-in at the top of a client's organisation. But marketers on the board remains an ambition rather than an actuality for many businesses.
Getting the message up the food chain remains a challenge, although Verma says board-level marketers are starting to appear, often in places where they did not have a history, such as banking.
Maher thinks a boardroom seat is less important than a marketing ethos: "Apple had a person at the helm who was fundamentally a marketing person, and you could say the same of Richard Branson. It doesn't matter if marketers are not on the board. They will get there eventually if they prove the effectiveness of marketing. In the meantime, it's more important that they 'get' brand."
Kerrigan is less optimistic. The past 20 years have seen an erosion of trust in marketing's capacity to deliver. "They do not trust us. There is dissonance in the system," he says. "Getting marketing up the agenda comes back to old-fashioned relationships and trusting what agencies are saying, and buying them to solve problems."
If this state of affairs is true, how can agencies make themselves indispensable again, Beale asks.
Stratford says demonstrating that they understand consumer behaviour is at the heart of what agencies can offer: "It's the hardest thing for clients to do. They can do everything else themselves, but an agency can remove itself from the commercial reality of the business and be the conscience of the consumer."
Maher says agencies should pride themselves on being idea generators and thinking laterally.
Ratcliff agrees and says agencies such as Droga5 and The Brooklyn Brothers demonstrated the primacy of extraordinary creativity.
If the role of creativity has always been a constant in advertising debates, could the same be said about integration, and will clients and agencies still be chewing it over in five years' time?
Giraldi says they will, as it answers a client need: "There is something that needs to be integrated: it's the way that clients and agencies think."
Kerrigan says "integrated" is dead as a pigeonhole for agencies, and that those that sweep the board for "integrated" awards seldom define themselves in that way.
For Hatton, the issue of how communications integrate with products and services is coming down the line: "Apps didn't exist five years ago. Who knows when cereal boxes will have screens on them?"
It seems the integration debate has plenty of life in it yet.
---
IN THE DEBATE:
Claire Beale, editor, Campaign
Ian Kerrigan. executive creative director, Gyro
Riccardo Giraldi. creative director, B-Reel
Anand Verma, president of diversified services G14, IPG Mediabrands
Rachel Hatton, planning director, Ogilvy Group
Paul Davies, director of marketing communications, Microsoft
Stephen Maher, chief executive, MBA
Sarah Virani, senior account manager, Campaign
Lynsey Barber, editorial assistant, Brand Republic Group
Ade Adefala, account manager, Campaign
Joe Rider, managing director, Duke & Earl
Dr Kathleen Mortimer, senior lecturer, Northampton Business School
Stuart Derrick, journalist, Campaign
Sarah Stratford, strategy director, Archibald Ingall Stretton
Carl Ratcliff, executive planning director, Elvis
Suzanne Bidlake, consultant editor, Campaign
---