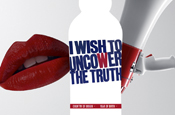 The review is at the longlist stage, with initial meetings expected to take place in the coming weeks.

The pitch brief is expected to be based around pushing the brand in key European markets. However, the full ?account will also cover Central and Latin America as well as Asia.

It is thought that the main focus of the work will be print and digital, with a small amount of TV work.

The business was previously handled by Wieden & Kennedy Amsterdam, which resigned the account due to ?a client conflict at the end of last year.

It picked up the business in December 2006 following a pitch against Y&R France and Ogilvy Advertising in London.

The agency's last work for the brand, called the "W Movement", promoted the traditional Polish origins of the vodka.

The campaign was based around a humorous protest against the spelling of vodka, arguing that it should be called "wodka", as in the original Polish spelling.

A website focused on the movement's manifesto and included protests from various Polish people, such as a singer taking a vow of silence and a designer making a protest while naked.