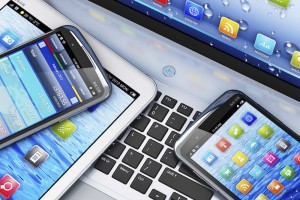 In less than a decade we have seen a huge range of tablets along with various combinations of screen size and device capability burst on to the scene as multiple providers look to follow in Apple's footsteps.
As a result of the increasing numbers of users on new types of devices, mobile started to become the first port of call for designers and marketers alike.
At the Web 2.0 Expo in April 2009 Yahoo's Marc Davis used the term 'mobile-first' as he described that it was no longer good enough to simply push the PC experience across to the phone's small screen.
And instead that it was time to start building products and services designed to take advantage of the strengths and abilities of the mobile devices themselves.
New design and development approaches were then created. Graceful degradation (focus on packing everything into a desktop version and gradually lose functionality as you move to tablet and then mobile) was evolved into progressive enhancement (focus on mobile and gradually enhance or even completely rethink interfaces for larger platforms with fewer constraints).
Responsive design started to be used to create sites with an optimal viewing and interaction experience (easy reading and navigation with a minimum of resizing, panning, and scrolling) across a range of devices from desktop to mobile.
Whilst these new techniques are beneficial for user experience, unfortunately some brands mistakenly believe they equate to achieving personalisation.
Basing interaction and the presentation of content on the screen size of the user is simply common sense and a hygiene factor that users have come to expect as standard. To fully harness the power to personalise based on device, brands need to look at aspects beyond its screen size, as well as the context in which it is being used.
Device and context considerations
To fully personalise consumer experiences based on the device they are using, there needs to be an appreciation of the capabilities of the user's gadget.
The presence of accelerometers and gyroscopes provide an ability to understand the velocity and direction of a user. In turn this enables experiences to be tailored based on whether a user is in a hurry or standing still.
The bandwidth capabilities for tablet and mobile devices can change often and quickly based on their network connection. The experience that a user needs over GPRS is vastly different than when connected via Wi-Fi to a fibre broadband connection.
Being able to detect connection speed and modify the size and flow of information is critical to providing relevant experiences for consumers.
We also typically create content and experiences primarily for our eyes. Device technology now increasingly allows interaction with devices through voice and gestures. As a result personalisation will include building multi-sensory experiences that are activated with voice commands and hand movements or are prompted by the device itself.
Device proliferation
The proliferation of devices over the last five years has seen users move beyond desktop, tablet and mobile to a range of gadgets that include games console, smart TV, wearables and other connected devices associated with the internet of things. This explosion has resulted in an average of 7.4 internet devices in each British household.
With that number available, it is no surprise that consumers are moving between gadgets whilst interacting with brands to create cross device journeys.
Google research identifies that of the 65% of customers that use a smartphone to start shopping online, 61% continue on a PC or laptop and 4% continue on a tablet. Personalisation then in this scenario is providing continuity and maintaining an understanding of each customer as they move between devices.
As a result of the proliferation of connected devices and our dependence on technology a massive amount of data is being created. Our actions and interactions are being recorded by the brands that provide services, apps or tools and that information should be leveraged where possible and appropriate to tailor content to the needs of individual users and provide personalised experiences.
Consumers don't necessarily have a conscious expectation (or even desire) for brands to know exactly what device they are on.
However, they do have an expectation for a seamless experience that follows them across their device interactions, and that their experiences with brands are in keeping with the personalised experiences they receive from the device itself.
Don't focus on device
The creation of new types of devices has been the catalyst for a change in thinking about how to design interactive experiences that are relevant for each gadget.
However, that needs to mature away from mobile-first to a focus on the tasks that users are trying to complete, and how different devices and their capabilities can be leveraged to deliver the right depth of experience to help users accomplish those tasks.
Bruce Griffin is CEO & founder at Rockpool