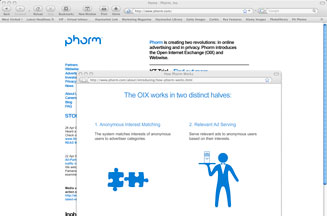 Combined with information gleaned from the web and customer relationship marketing programmes, brands can employ unparalleled levels of targeting and personalised communications.
However, marketers need to ensure that one-to-one communications do more than simply showcase technology. Sending out a birthday card with a customer's name on it may seem clever and engaging, but whether it adds brand value is another question.
Amanda Mackenzie, group marketing director at insurance giant Aviva, believes consumers want appropriate services at the right time, rather than a cosy one-to-one relationship with a brand. 'The one-to-one marketing debate has become confused,' she says. 'Ten years ago, marketers were talking about how they wanted to get intimate with their customers. But that is not what people want, they want brands that react in the right way at the moment they need them.'
Aviva has introduced a telephone voice-recognition system in Australia; it identifies customers when they phone in so that call centre staff can welcome them by name. Mackenzie argues that this is an acceptable form of personalisation, as some life-insurance customers may be suffering from terminal illnesses such as cancer, making it appropriate to ensure that their situation is understood. While Aviva encourages staff to respond to customers' needs, Mackenzie frowns on attempts to artificially impose more intimate relationships.
Away from call centres, the idea of sending out individually targeted communications has long been a dream for direct marketers, but, until now, the expense was prohibitive. The growth of digital printing has brought down costs, however, making it possible for most brands to create tailored direct mail packs.
Nonetheless, Chris Whitson, planning director at direct marketing agency Stephens Francis Whitson (SFW), warns that brands can be blinded by the possibilities of personalised communications.
'Brands can be so excited that they sometimes fail to ensure it is relevant and engaging. If it adds value, it is brilliant. If it is a gimmick, it will fail and get people's backs up,' he says.
The agency's creative director, Neil Francis, adds: 'Just because you can do personalisation doesn't mean you should.'
As an example of the right way to approach personalisation, he cites a campaign that SFW created for online travel company ebookers. Consumers who had booked a flight using the site were sent a personalised brochure four weeks before their date of travel, designed to cross-sell them hotels, day trips and car hire. The recipients' names appeared on the publication and 700 variants of copy were used according to the customer's destination, when they were going, the type of group in which they were travel-ling and whether they had already booked car hire or hotels via the website. A particular focus was placed on avoiding giving the customer the impression that their personal information was being used in an invasive way. Up to 2000 brochures were sent out each month and Francis claims the campaign brought a strong return on investment and drove many cross-purchases.
A perfect engagement
Those in favour of personalised marketing argue that it takes segmentation of customers to its logical limit. Gavin Wheeler, joint managing director of direct marketing agency WDMP, claims personalised communications can deliver 'a huge incremental response' for direct campaigns.
However, the acute level at which brands can now target consumers can be off-putting. For instance, if a registered website user visits a web page, the site can automatically send them an email promotion based on what they were looking at. 'That can freak people out,' says Wheeler.
He advises sending communications a day or so later, so that it appears to be co-incidental, rather than a result of tracking the customer. 'It's the Big Brother thing,' he explains. 'People find it intrusive. You have to make communications personal and relevant, rather than saying "We know this about you". There are techniques available to show that you aren't abusing the data.'
Web advertisers face similar concerns, as behavioural targeting that operates without users' consent has stirred up controversy among privacy campaigners.
Behavioural targeting works by placing a cookie on a web user's computer to track the sites they visit, building up a picture of their interests and likely demographic information. Advertising networks analyse this information to deliver relevant ads. If a user visits many football sites, for instance, they might be targeted with ads selling football shirts on other sites. The soon-to-launch Phorm service is similar, although it works directly with internet service providers.
Behavioural ads work in a different way from contextual advertising, where an ad is served that is relevant to the site itself.
Malcolm Devoy, head of behavioural targeting at digital agency i-level, says a major advantage of behavioural ads is that they can be served up to the user when they visit a site where ad space is cheap, such as a blog or chat room, thus cutting costs for the advertiser.
However, Devoy points out that the future of behavioural targeting rests on users accepting cookies on their computers. 'Cookie-based tracking faces the greatest challenge. If cookie deletion becomes prevalent, behavioural targeting will need to evolve to keep up,' he says.
Another area where personalised ads can be served up is through targeted, addressable advertising, in which TV ads are shown to different groups of people in the same ad break. For example, the centre break of Coronation Street might have one set of ads for young, single men and another for middle-aged mothers.
Sky says it will be ready to introduce such a service through its Sky + boxes by 2011. However, a stumbling block may be that, in many households, it is rarely clear who exactly is watching the television.
Some doubt whether personalisation will ever be very effective. Chris Binns, planning director at media agency Media-Com, believes homing in on 'communities of interest' is more appropriate for most brands. He cites the example of Lucozade Sport which targets consumers with a serious interest in participating in sport, through specialist magazines.
His conclusion may give brands food for thought. 'It is mass customisation, rather than personalisation that is effective at the moment,' he says.