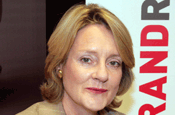 Buscome, currently chief executive at the association, will take up the new role in April next year, according to the body's chairman, Mark Lund.

She will succeed Sir Christopher Meyer, who has held the post of PCC chairman since 2003.

Lund said: "We look forward to announcing a successor to Peta in due course to continue to make the case for advertising as a force for good."