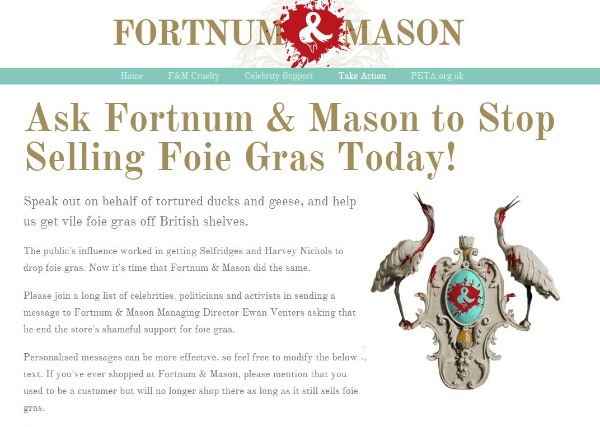 The site uses branding and a logo similar to the style used by Fortnum & Mason to evoke the overall look and feel of the luxury retailer's website.
The objective is to pressure the business to stop selling fois gras, which the campaigning organisation says is a "shameful" inhumane and "vile" food product.
The move exploits changes the Government has made to UK copyright law. From today (1 October), two exceptions for the use of copyrighted material have been added to the UK Copyright Designs and Patents Act 1998. They mean that copyrighted material can be used without permission for the purposes of parody, caricature or pastiche.
The change in the law permits a defence of fair dealing, limiting the risk of a copyright infringement claim.
PETA, which claims to be the first to take advantage of the change in law, said the changes bring the UK in line with the US, where it has already created a number of parody websites, such as KentuckyFriedCruelty.com and BloodyBurberry.com.
Mimi Bekhechi, a PETA director, said: "Fortnum & Mason's image has already been tarnished by its sale of foie gras, which is so cruel that its production is banned in Britain, and now we are bringing further attention to this by using another British value: ridicule."
Until now, PETA UK has been unable to include the creation of parody websites in its campaigns but it expected that it will now adopt a similar strategy for future campaigns.
A spokesman for Fortnum & Mason said: "We are aware of PETA's campaign, and we shall continue to monitor their activities".