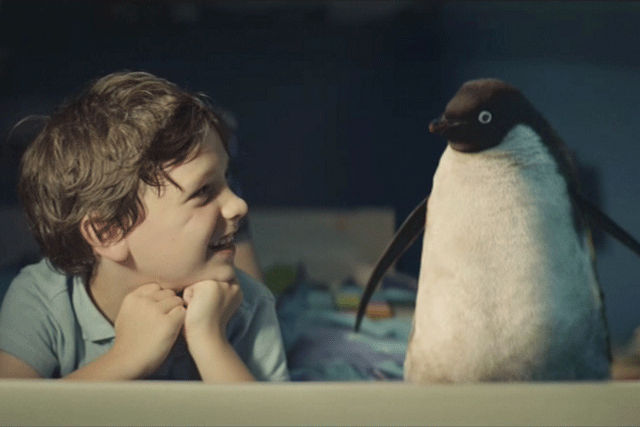 A spokesman for the charity said that this was the first time it had recognised a brand for compassionate marketing and that it was inspired to do so by the ingenuity of John Lewis' Christmas ad.
Mimi Bekhechi, the UK director at Peta, said: "On-screen entertainment has progressed technologically as well as socially since the commercials of the 1970s, in which chimpanzees were forced to wear roller skates, carry pianos or pour tea from a pot.
"Slick creations such as this ad show that using actual animals, as well as being cruel, is utterly unnecessary."
Adam & Eve/DDB created the campaign for John Lewis. The ad features a young boy and his toy penguin, Monty, who comes to life in the child's imagination. MPC created the CGI effects for the ad.
But not all animal lovers are placated by the use of CGI creatures. The Advertising Standards Authority received 19 complaints in October about an ad for Scottish Southern Electric – also created by A&E/DDB – that featured a CGI orangutan.
Complainants were upset about an endangered species being shown in an urban environment.
The Peta spokesman said: "There are always people that want to get their hands on real-life versions of animals they see on TV.
"We recently made that point, along with other charities, when the Teenage Mutant Ninja Turtles film was released. But because penguins are hard to get your hands on, it meant that this wasn't the case for the John Lewis ad."
A&E/DDB has had several brushes with the animal rights lobby. Its campaign for Marmite, which spoofed animal rescue documentaries, was the second most complained about ad in 2013. Viewers claimed it trivialised the work of animal charities.
A campaign for Volkswagen by DDB London that used real dogs was the second most complained about ad of 2008.