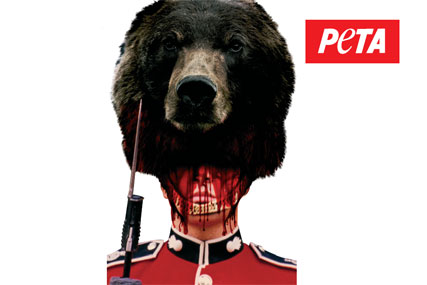 The ad features a Queen's Guard wearing a bleeding bear cap and says "MOD: Go fur-free - It Can Take the Entire Hide of One Bear to Make Just One Cap".
The campaign, which is running on 25 buses with advertising sold by Transport Media, is the first part of Peta's 2010 push to get the Ministry of Defence to switch from Canadian black-bear pelts to faux fur.
Peta says it can take the entire hide of a bear to make a single cap and many bears are shot several times before they die, some leaving orphaned cubs behind to starve.
Poorva Joshipura of Peta said the Ministry of Defence is "paying real money to maim and shoot black bears while giving mere lip service to modernising the caps and putting a stop to the abuse".

Joshipura said: "'Tradition is no excuse for cruelty, and we plan to make this the year that everyone hears about how slowly the British military adapts to change."


Peta's campaign to end the killing of bears for the Queen's Guards' caps has support from celebrities including Ricky Gervais, Pamela Anderson, Sadie Frost, MP Ann Widdecombe, Mary McCartney, Sir Roger Moore, Jilly Cooper, Twiggy, Amanda Holden, Michael Sheen and Julian Clary.