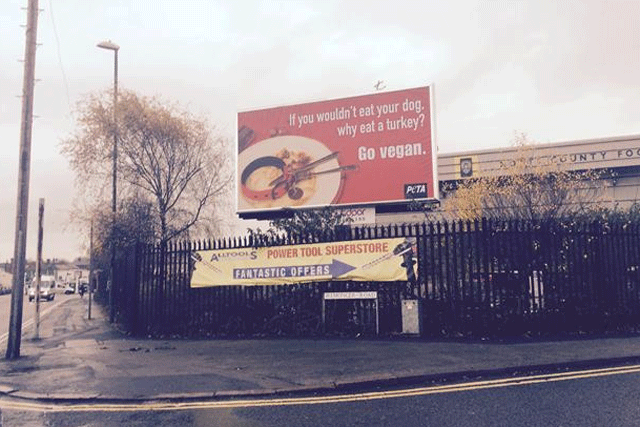 The billboard ad close to the Nottingham County Football Club ground shows a dog collar on a plate with the remains of a roast dinner. The ad asks: "If you wouldn't eat your dog, why eat a turkey?"
The ad replaces a controversial poster featuring a woman whose face is covered in a white liquid with the suggestive text, "Some bodily fluids are bad for you. Don't swallow. Ditch Dairy."
The dairy ad was removed after Nottingham County complained it was "not in keeping with [their] community and family-focused values".
According to Peta, turkeys are "fully conscious" when they are "dragged through electrified stun baths".
Mimi Bekhechi, the director at Peta, said: "Britons love animals, and if they thought about how turkeys feel pain and fear just as dogs and cats do, they'd trade in their drumsticks for a veggie roast in a heartbeat.
"Families can make this a merry Christmas for all by serving humane, delicious vegan meals."