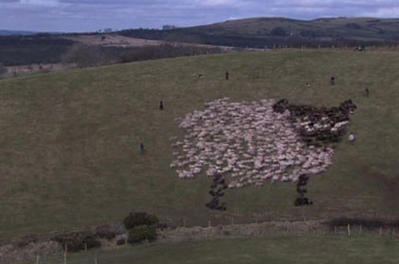 The ad, for Samsung's Smart LED technology, shows a flock of sheep, wearing LED lights, being herded around by sheepdogs into different shapes.


PETA has written to the president and chief executive of Samsung Electronics Europe, In-Soo Kim, urging him to pull the online ad, which was created by The Viral Factory.

In the letter, written by PETA's Erika Davis, the organisation claims that the use of sheepdogs is extremely stressful for sheep, which should not be treated as inanimate props.

Davis writes: "They [sheep] are sentient, intelligent and complex animals…Tormenting, harassing and scaring sheep to promote a product is unacceptable."

The letter, which was sent today (22 April), demands a response from Kim.
In response to PETA's letter, Samsung and The Viral Factory, which created the ad, said in a joint statement: "We would never condone cruelty to animals for the sake of entertainment or commercial benefit. This film was made both starring, and in consultation with professional shepherds, and as such the whole process was carried out with the animal's welfare foremost in our minds.

"The whole concept is a celebration of this ancient skill, and the amazing partnership that exists between dog, sheep and shepherd. To suggest that we would be abusing that partnership is offensive. And as brilliant as the shepherds are, there was a considerable amount of CGI and post production involved to achieve the amazing results you see in the finished film."

One of the shepherds in the viral, Bernard Llewellynn, added: "My sheep are my livelihood and represent most of my income. Undue anxiety can be lethal, and only a total idiot would put their animals under any stress."