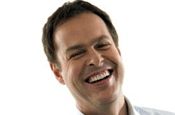 The new campaign, which will air on 5 May, will feature Jones showing some Hollywood guest stars how small businesses can solve IT problems.
The ad campaign continues the humourous approach of the Ramsey ad which showed the celebrity chef fiddling with his computer while his kitchen burned.
Jones launches the partnership with BT today at the BT Business Experience, a three-day exhibition in London aimed at entrepreneurs and small business owners.
Also launched at the event is the BT Business Essence of the Entrepreneur competition, searching for the top 20 entrepreneurs in the UK.
The winner receives a £20,000 business grant from BT.
Bill Murphy, managing director of BT Business, said: "We are thrilled to have Peter Jones as the new face of BT Business.
He embodies the entrepreneurial spirit which characterises many small businesses and which BT is seeking to recognise with our Essence of the Entrepreneur competition."