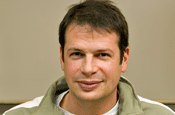 The former executive creative director - who has written for Radio 4 - has had a six-part TV series called Married, Single, Other commissioned by ITV. It airs this autumn.

Although he will no longer have responsibilities at the London agency, Souter will continue to sit on the BBDO Worldwide Board and the network's Worldwide Creative Council.

Souter, who joined AMV in 1990, took over control of the agency's creative department in September 2007 when the founder David Abbott relinquished power after three decades in charge.

Souter said: "It's been the most amazing privilege working with everyone at AMV.

"I can't remember a day when ?I haven't laughed out loud at least once. Nor a day when I haven't felt immensely proud of the people I've had the dumb luck to work with."