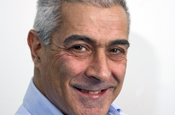 In his new role, Suchet will be responsible for driving the agency's new business in new directions.

Suchet joins The Gate from digital agency Steak Media, where he held the position of marketing director.

Suchet began working in the ad industry with Saatchi & Saatchi in 1979.

Starting as an account manager, he eventually rose to board director, working on clients including British Airways and Sainsbury's.

Following this, he was awarded the role of joint managing director of Saatchi's direct marketing subsidiary, Saatchi Direct.

In 1995, Suchet joined the Telegraph, and was responsible for establishing the newspaper's Fantasy Football game.

Suchet said: "The Gate has a fantastic heritage and a great list of blue-chip clients, particularly in the finance and charity sectors.

"It's great to be working with such a well-respected agency and I look forward to making a real difference over the months and years to come."