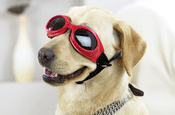 The account is currently split between Brilliant Media, which handles local activity, and MediaVest Manchester, which had worked on a national campaign.

Pets at Home's relationships with its advertising agency Krow and the communications planning agency Edwards Groom Saunders are unaffected by the buying review.

Sources said that Pets at Home has already started the process of approaching media agencies.

The review follows the recent departure of the marketing director Gillian Buttree, who joined Pets at Home last September and subsequently put its agency roster in place.

Pets at Home now has more than 200 stores across the UK and is opening stores in Australia.

Described as a "one- stop" shopping experience for pet owners, complete with vet surgeries, the stores are owned by the private equity company Bridgepoint.