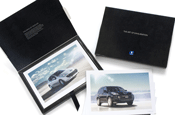 The car manufacturer is looking for an agency that can provide business-to-business marketing campaigns for all of its fleet services, highlighting its low-ownership costs and environmental practices.

Peugeot does not currently have an incumbent agency on the account, but does work with the customer publishing agency Specialist to publish Fleet Forum, a magazine aimed at Peugeot's fleet of car operators.

The direct marketing for the brand's commercial vehicles, which is currently held by Clark McKay & Walpole, is not thought to be affected by the review.

It is not known whether CMW, which picked up the £3 million commercial account from EHS Brann in December 2005, will pitch for the additional business.

Since working on the Peugeot account, CMW has produced a number of direct mail campaigns, including a mail pack that celebrated the launch of Peugeot's new Bipper, a small "city" van that launched last summer.