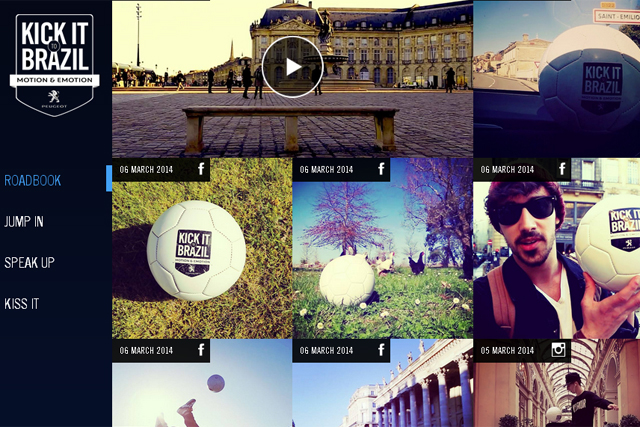 The French car manufacturer, which is not an official World Cup sponsor, will transport a football across 30 countries, before arriving in Brazil on the eve of the tournament.
Consumers will be able to track the progress of the football through dedicated Facebook and Instagram pages using the hashtag #KickItToBrazil, as well as via a microsite, as it travels in Peugeot vehicles from Paris to the heart of the Amazon.
Before it's released, take a sneak peek at our globetrotter ball #kickittobrazil pic.twitter.com/J6p6m4degH

— Kick it to Brazil (@Kickit2Brazil) March 5, 2014
Peugeot said it is looking to create a "strong link" between the brand and "multiple generations worldwide", in particular outside Europe where the company said it is experiencing "strong growth".
The company also hopes to raise awareness of its Forestry Carbon Sink sustainability project in Brazil, through which it has already planted two million trees representing 50 different species.
Peugeot statement said: "With an international media network of more than 1.2 billion active users, of which 945 million connect via smartphone, Facebook is the obvious media partner to help support this global operation."
With Hyundai and Kia Motors the official automotive partner of the 2014 World Cup, Peugeot may find itself accused of "ambush" marketing.
However, a spokesman denied there was any link with the FIFA competition, stating Peugeot was looking to promote the Carbon Sink project it has been running since 1999.
FIFA is yet to respond to Marketing's request for comment.