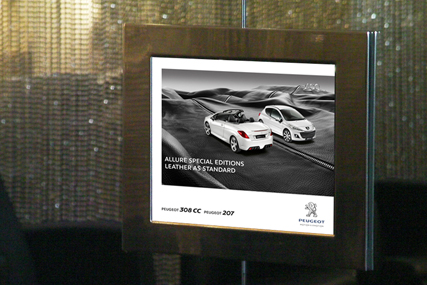 Peugeot is using the network, in activity planned and bought by its directly appointed specialist Source, to promote its female-focused car models, the Peugeot 308 CC and Peugeot 207.

The Peugeot ads will run in 540 venues across the Toni&Guy TV and Simply Media Salon TV networks. A Digicom spokesman said the four-week campaign would deliver an estimated 2.56 million impacts.

Chris Forrester, managing director of sales and marketing at Digicom, said: "The Peugeot 308 CC and the Peugeot 207 are stylish cars aimed at upmarket women. The Salon Media network delivers exactly that audience and, what's more, delivers them in a location and at a time when they can to take time to absorb information and make decisions."

Digicom was set up by former CBS Outdoor international chief executive Tom Goddard, to give smaller digital media owners the strength of a national sales house and launched in January 2009.

The sales contract for the Salon Media network was awarded to Digicom in January 2010. The network of more than 3,700 screens reaches more than 360,000 adults every two weeks.

Digicom secured the contract for the Amscreen network, the digital signage company set up by Sir Alan Sugar, in June 2009. Amscreen recently announced it had installed its units in 1,000 forecourt convenience stores across the UK and is set to sign more major forecourt partners.