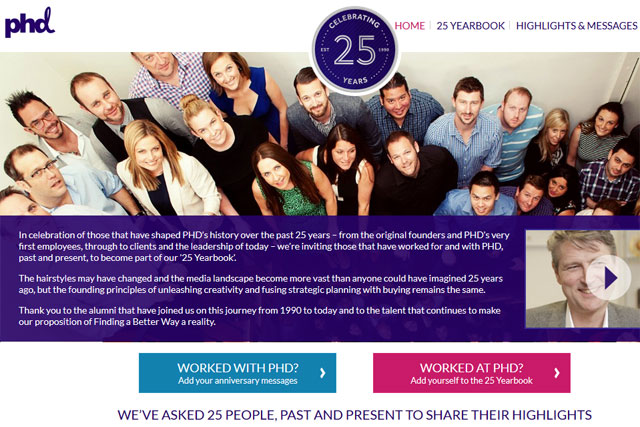 PHD is celebrating its 25th anniversary with a "25 yearbook" microsite featuring people who have worked at or with the agency.
The 25 people include David Pattison, Nick Horswell and Jonathan Durden, the co-founders, some of PHD's first employees, clients and today's leadership. They have also shared a picture of themselves 25 years ago.
Tess Alps, the chairman of Thinkbox; Ed Castillo, the chief strategy officer at TBWA Worldwide; Jon Wilkins, the executive chairman at Karmarama; David Wilding, the director of planning at Twitter; Kathleen Saxton, the founder of The Lighthouse, and Mark Sands, the chief marketing officer at Christies, are on the site, since they have previously worked at the agency.
Also on the site is Carolyn McCall, the chief executive at easyJet, who shares her memories of appointing PHD in 1990, when she was the chief executive at Guardian Newspapers.
Mike Cooper, the chief executive at PHD Worldwide, said: "PHD has a very special heritage and one that is unlike any other media agency network.
"From a radical challenger proposition that started in 1990s London with a headcount of four, PHD's unique positioning as a leader in creative communications planning has evolved globally, and today we are over 3,000 employees in over 80 countries and work with some of the world's largest advertisers.
"We're delighted that the founders and alumni are joining us to celebrate 25 years of keeping the founding principles of innovation, creativity and thought-leadership alive."
PHD is inviting people to leave anniversary messages on the site www.phdat25.com.
This article first appeared on campaignlive.co.uk.