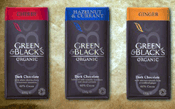 Rocket, the PHD Group agency, will handle communications planning for Green & Black's, while PHD will be responsible for buying.

The appointment comes six months after PHD won the planning and buying for Cadbury, which owns Green & Black's.

Starcom MediaVest Group previously handled the Green & Black's business, which it retained last August despite Cadbury moving its main account into PHD.

Green & Black's continues to use Brave as its UK ad agency.

Last October, Green & Black's appointed Agency Republic to work on its digital strategy.

Kellie Fernandes, the head of global marketing at Green & Black's, said: We were really impressed with their strategic thinking and their understanding of our brand.