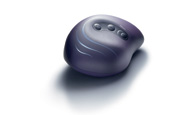 The brand, better known for electrical goods including razors, radios and TVs, has added what it calls Intimate Massagers to its range.
The line represents a radical departure for the Dutch company, which positions itself with the rather straight-laced strapline 'Sense and simplicity'.
The launch also throws a spotlight on the tricky issue of marketing such products to a British public, which, while broad-minded in some respects, is still not as relaxed as continental Europeans when it comes to the public discussion of the details of sex. When Philips' ad campaign breaks later this month, it will take an educational approach rather than using sexual imagery or relying on humour.
Philips bills the set of three massagers as the first non-penetrative stimulators, with the unique selling point that they are 'designed to please both partners'. The result of two years of research into what couples in a committed relationship want from their sex lives, the products went on sale last week in Boots, Selfridges and Amazon.co.uk. Prices start at £79.99.
Philips has gone out of its way to distance itself from existing products in the market. Unlike the notorious Rampant Rabbit vibrator, which achieved international fame after featuring in 'Sex and The City', the Philips line, which resemble large pebbles, is not just for women. As well as a female-focused product, there is also one for men, while the third in the range, the 'warm massager', is shaped for use by both sexes.
A Philips spokesman said: 'The research shows that a third of people in the UK are open to experimenting, but don't like the phallic products on the market and don't like the places where they are sold.' By selling its massagers through mainstream retailers, Philips hopes to attract couples aged 35 upwards.
A press campaign created by DDB London for quality glossies including Vogue and Tatler, as well as colour weekend supplements, will run at the end of the month; Tribal DDB has created a complementary microsite. The advertising campaign will be largely educational, explaining in a sensible rather than saucy tone how the products work and how they can help.
Ann Summers, which sells 1.2m sex toys a year though its 130 outlets, website and parties, does not view the new competitor as a threat. A spokeswoman for the self-styled 'seductive lifestyle retailer', says: 'They are targeting 35- to 55-year olds, while our target market is 18-45.' She is not surprised by the launch, because, she says, the couples market is an area of growth for sex toys. 'It's good to see that this is being picked up in a mainstream way,' the spokeswoman adds, reasoning that it could have the effect of making consumers feel less embarrassed about buying sex aids.
The transition of sex toy sales into mainstream retail channels has not been without its bumps. Durex launched its Play range of sex toys such as vibrators and vibrating penis rings in 2004. Annual sales have grown quickly to £32.2m, according to parent company SSL's 2008 annual report. Sales of the products rocketed in 2005 after the range got distribution in 230 Superdrug stores, but it hasn't had it so easy with other retailers. In October 2004, SSL was in talks with Boots to stock the Durex Play range, but the Financial Times broke the news of the discussions, and, following a negative press response and criticism from customers and employees, Boots' chief executive axed the plans. Today, Boots - and a number of supermarkets - stocks Durex's vibrating penis rings alongside condoms, but does not offer full-size vibrators for women.
Philips is waiting to see how the Intimate Massagers do in the UK before a wider rollout - presumably because, if they can sell them to repressed Brits, then it can be more confident of their prospects elsewhere.