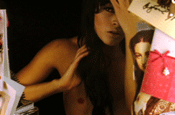 The ad for the Satinelle Ice Epilator features an LA-based transvestite dancer, Karis, using the epilator.
It was shot by Fredrik Bond of Sonny Films, and will screen across Western Europe.
Neil Dawson, DDB's global director for Philips, said: "We wanted to find the ultimate test for this device.
"It occurred to us that a man, or more specifically a transvestite, would be the ultimate test, given the combination of low pain threshold and desire for beautiful legs."
The TV spot is backed by print, outdoor and online ads.

Does the ad bring a tear to your eye? Comment below: