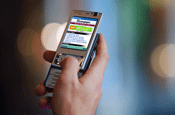 Vodafone, Telefonica 02 Europe, T-Mobile International, FT Orange and 3 will conduct a feasibility study, initially working with each company's UK operating business.
The GSMA said one of the key priorities for the working group and the GSMA is the definition of a range of metrics to describe the mobile audience.
Rob Conway, chief executive of GSMA, said: "The working group and the GSMA will facilitate crucial engagement between mobile operators, advertisers and agencies to help ensure that mobile advertising realises its full potential for the benefit of all players in the ecosystem."
Richard Saggers, head of mobile advertising at Vodafone, said the move came in response to demands from media planners.
He added: "Vodafone is participating in the UK project with a view to developing a common framework for mobile advertising and metrics which can be replicated in other markets as well."
The project will be run as part of the GSMA's Speciale Mobile Association (GSMA) Mobile Advertising Programme.