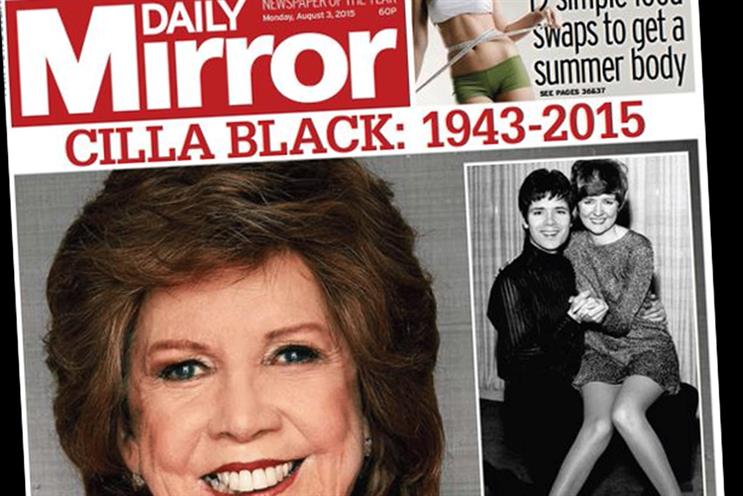 According to its half-year financial results for 2015, published this morning, Trinity Mirror made a pre-tax profit of £12.1 million, down 76.0 per cent after it put aside £16.0 million to compensate victims of phone hacking.
Trinity Mirror's pre-tax profit in the first half of 2014 was also boosted by PA Group's sale of the weather forecaster MeteoGroup. Trinity Mirror owns 21.5 per cent of PA Group and received £27.5 million from the MeteoGroup deal.
If the year-on-year impact of phone hacking and MeteoGroup are excluded, Trinity Mirror's statutory profit before tax increased by £1.1 million.
The publisher of the Daily Mirror, Sunday Mirror, and regional newspapers such as the Liverpool Echo reported its revenues fell by 11.0 per cent to £288.5 million in the first half of 2015.
Print advertising revenue fell by 19.0 per cent, from £108.3 million in the first six months of last year to £87.7 million in 2015. Digital ad revenue increased by 25.8 per cent year on year to £16.6 million in the 26 weeks to 28 June 2015.
Adjusted pre-tax profit declined by 2.5 per cent to £47.0 million in the first half of 2015 from £48.2 million in 2014.
Simon Fox, the chief executive of Trinity Mirror, said: "The print advertising environment has been more challenging than anticipated in the first half.
"As a result, whilst continuing to invest in people and technology to drive the ongoing growth in digital audience and revenue, we have taken further action to address our print cost base.
He said: "I remain confident that our strategy will deliver sustainable growth in revenue and profit over the medium term despite the difficult print advertising market conditions.
"The actions we are taking in support of both our print and digital products provide the board with confidence that profits for 2015 will be in line with expectations."
Trinity Mirror is currently challenging the amount of compensation awarded to its victims of phone hacking, which included the actress and entrepreneur Sadie Frost and former footballer Paul Gascoigne.
A court refused it permission to appeal but Trinity Mirror is expected to take the case directly to the Court of Appeal.