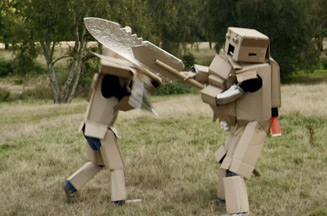 The new ad, by Adam & Eve, features a couple of people dressed in cardboard warrior outfits engaging in battle.
The latest execution will run for the next three weeks, followed by another ad at the end of the year.
Caspar Nelson, head of brand communications at the mobile retailer, said Phones4U would 'reassess' its ad campaign to put in place a new strategy next year.
The Popular People campaign was launched in June and was intended as a three-month campaign to raise brand awareness after it ditched its 'Jack' brand character.