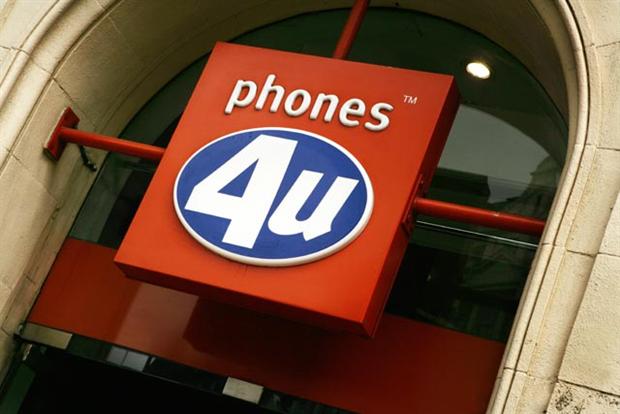 EE's decision, which was announced on Friday, came on the back of a decision a fortnight ago by Vodafone to stop selling through Phones4u.
The administration puts a question mark over 5,596 jobs, including those of recently appointed marketing director Ben Padley and chief marketing officer Scott Hooton.
Ironically, Phones4u only recently launched a multimillion-pound 'Future You' campaign based on 1980s classic movie 'Back to the Future'.
The blow is particularly harsh for Phones4u given that the business was profitable and had an annual turnover of around £1bn. But the actions of the networks – which sell handsets and contracts through their own distributions channels, as well as those of Phones4u rival Carphone Warehouse – speak volumes about their views of dealing with third-party retailers. O2 and Three had already stopped doing business with Phones4u.
Carphone Warehouse appears to view the news as an opportunity. Its website landing page says today, "If you are a Phones4u customer and worried about anything related to your phone, warranty, upgrade or iPhone 6 order, we can help".
Until last week, EE, which operates Orange and T-Mobile, was left as the only partner for Phones4u. But without it, it the retailer would be unable to offer customers a choice.
Phones4u went into administration last night (14 September) and its 550 shops will not open today.
David Kassler, its chief executive, barely suppressed his anger at EE and Vodafone. He said: "Today is a very sad day for our customers and our staff.
"If the mobile network operators decline to supply us, we do not have a business. A good company making profits of over £100 million, employing thousands of decent people has been forced into administration."
The firm insisted that existing contracts would be unaffected, and that phone orders not yet despatched would be honoured.
Phones4u's website is currently down but carries a message stating: "Following the unexpected decision of EE and Vodafone to withdraw supply from Phones4u, we regret that we are offline.
"Please accept our apologies and we will update you as soon as possible." A graphic of a Post-it note adds, "Sorry, we'll be back soon".
The retailer is owned by BC Partners, which bought the firm in 2011. The private equity company said that Vodafone had acted in "exactly the opposite way to what they had consistently indicated to the management of Phones4u over more than six months.
"Their behaviour appears to have been designed to inflict the maximum damage to their partner of 15 years, giving Phones4u no time to develop commercial alternatives.
"EE's decision on Friday is surprising in the context of a contract that has more than a year to run and leaves the board with no alternative but to seek the administrator's protection in the interests of all its stakeholders."
PwC is expected to be appointed administrator today, when it will decide on the future of the business.
Phones4u was founded in the 1980s by John Cauldwell, who later sold it. On Friday in the Telegraph, Cauldwell described Vodafone's decision to pull its contract with the retailer so it could favour a deal with Dixons Carphone, as "ruthless" and called for consumers to boycott the brand.