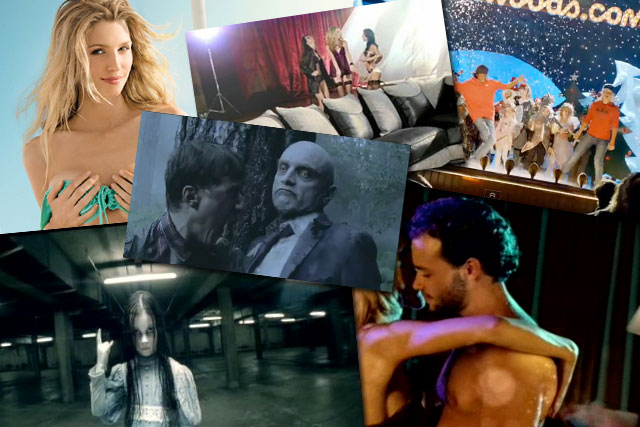 The series of ads for the mobile phone retailer feature a ghost-like girl inspired by horror flick 'The Ring'.
It received 659 complaints from viewers who believed them to be "offensive, irresponsible, unduly distressing and inappropriately scheduled".
But the ASA ruled the ads that were aired in October 2011 as part of a £5m campaign were "unlikely to cause serious or widespread offence" and considered its post-7.30pm time restriction to be "appropriate".
Caspar Nelson, head of brand communications at Phones4U, called the ASA's decision "an absolute triumph of creative and impactful advertising".
He said the campaign had been "extremely well received by a large audience who recognise the classic horror themes, get the Phones4U sense of humour, and understand what our ads are trying to communicate".
In its annual report published today (30 May), the ASA, which is also celebrating 50 years as the UK's independent regulator of advertising, stressed it "does not play a numbers game when judging whether an ad should be banned".
The ASA report stated: "Just because an ad has received a high number of complaints does not mean that it breaches the rules, but the number of complaints certainly gives us a general sense of public opinion and the kinds of themes and images that might not be to everyone's liking."
In fact, the top four most complained about ads of last year all escaped being banned or any further action from the watchdog.
The most complained about ad to be found in breach of the advertising codes was another Phones4U creation, this time for a poster of Jesus Christ celebrating "miraculous deals", which generated 98 complaints when it ran during Easter.
By sector, leisure was the complained about this year, as it was in 2010, with 5,287 complaints, followed by retail (2,349), health and beauty (2,080) IT (1,565) and finance (1,519).
The number of complaints generated by Phones4U 'little girl' were significantly fewer than the top three most complained about in 2010, led by 1,313 for Big Al's Creative Emporium's ad for Paddy Power.
Similarly in 2009, the top three most complained about all had more than 700 complaints, led by 1,204 for The Christian Party's in-house effort 'There definitely is a God'.
2011 incites a record number of compaints
Last year, the ASA received more complaints about advertising than ever before, up by more than 6,200 on the previous year, to 31,458 complaints about 22,397 ads.
However, before dissenting voices use the figure to beat 'irresponsible adland' around the head, again, the ASA firmly attributes the rise in the number of complaints to the extension of its remit in March 2011 to include advertisers claims online.
Chris Smith, chairman of the ASA, said: "The online remit has hugely increased our workload, with numbers of complaints and cases substantially up on previous years.
"But through the dedicated commitment of our staff, we've stepped up to the task, and have managed to maintain our efficiency, our standards of service, and the care with which we scrutinise the claims we called upon to consider."
Most complained about ads of 2011
1. Phones4U 'little girl' / 659 complaints / Not upheld
Adam & Eve
2. Littlewoods 'my mother' /585 complaints / Not upheld
In-house
3. CSL 'girls on film' /260 complaints / Not upheld
4. Lynx 'the final edition' / 214 complaints / Not upheld
Ponce Buenos Aires
5. Travel Palestine / 149 complaints / Upheld in part
6. Durex 'love sex' / 126 complaints / Not upheld
McCann Manchester
7. Lynx 'shower gel' / 115 complaints / Upheld in part
Bartle Bogle Hegarty
8. Phones4U 'Jesus' / 98 complaints / Upheld
Adam & Eve
9. The Money Advice Service 'money can't buy you hapiness' / 80 complaints / Not upheld
10. Phones4U 'zombie' / 79 complaints / Not upheld
Adam & Eve
For 50 years the ASA has been operated under the remit of keeping advertising "legal, decent, honest and truthful", during which time it estimates it has received nearly half a million (431,100) complaints.
Drawing on Accenture's analysis for the IPA, the advertising body noted the number is testament to the high level of complaince with the rules by advertisers, agencies and media owners, considering that we each encounter around 1,000 commercial communications per day
Some topics when used creatively will always attract some scutiny, not least religion, gambling, sex, violence and drug-taking, however the UK's most complained about ad of the last half century was set in a call centre and was slammed by 1,671 people for promoting bad manners.
The ad for KFC's Yum! Restaurants by Bartle Bogle Hegarty ran in 2005 and upset people with its depiction of three women working in a call centre and singing about the new KFC Zinger Crunch Salad with their mouths full of food. Subtitles were used to show what the women were saying. At the end of the ad, one of the women answered the phone singing, "Hello, emergency helpline".
The ASA ruled in June 2005: "Although not to everyone's taste, we thought it was unlikely to change children's behaviour or undermine parental authority."
Most complained about ads of all time
1. Yum! Restaurants KFC 'zinger' (2005) BBH
1,671 complaints / Not upheld
2. Auction World (2004)
1,360 complaints / Not upheld
3. Paddy Power 'blind wanderers FC' (2010)
1,313 complaints / Not upheld
4. The Christian Party 'there definitely is a god' (2009) 1,204 complaints / Not upheld
5. British Safety Council 'thou shalt always wear a condom' (1995)
1,192 complaints / Upheld
6. Marie Stopes 'are you late?' (2010)
1,088 complaints / Not upheld
7. Volkswagen 'fight' (2009)
1,070 complaints / Upheld in part
8. Yves St Laurent 'opium' (2000)
948 complaints / Upheld
9. Department of Energy and Climate Change 'bedtime story' (2010) 939 complaints / Upheld in part
10. Barnardo's (2008)
840 complaints / Not upheld
Follow Arif Durrani on Twitter: @DurraniMix