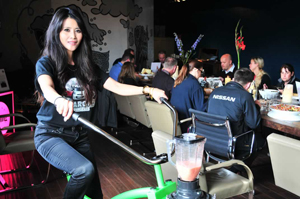 Around 60 journalists from UK motoring titles, local and national papers and 30 fleet specialists were invited to test drive the new model, as well others in the range.
The campaign began in Sheffield on 7 September, stopping of in Oundle near Peterborough, concluding in Reading yesterday (22 September).
The activity was all part of the Nissan Charged Tour, which highlighted the new model's 'supercharged' engine.
Journalists viewed presentations on iPads and 'supercharged' their minds with some brain-training games.
Even the food served was designed to give the journalists a boost, with a smoothie-making bike that required pedal power to work.
To see pictures from the tour click here.
"The event was very well received. The journalists like the fact it was done a little differently and we got our messages across about the cars and our innovations. We're looking forward to seeing the coverage in the coming weeks," said Nissan communications director Tom Barnard.
If you would like to comment register and let us know your thoughts.