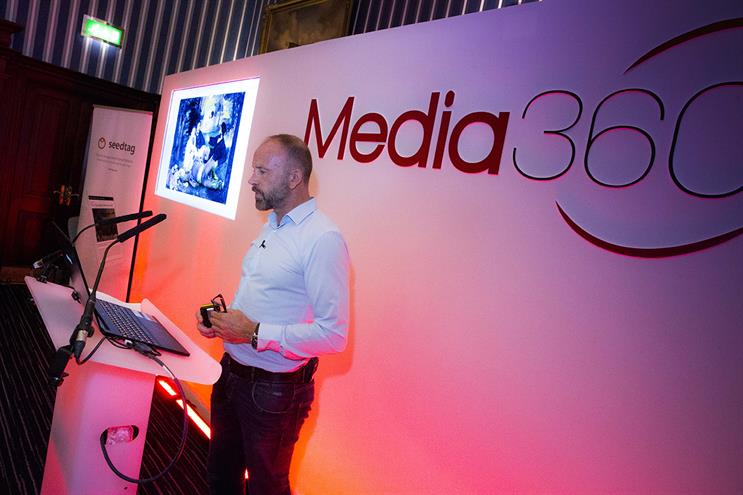 "The power of images is changing," said Jon Hewson, commercial director of seedtag, the in-image advertising platform.
He began discussing a photograph depicting New Year's Eve celebrations gone awry in central Manchester that went viral in 2016. The image first appeared in a picture gallery on the Manchester Evening News website and was brought to Twitter's attention by BBC producer Roland Hughes.
The image, likened in its composition to a Renaissance masterpiece, depicted police wrestling a man in the foreground, crowds watching near a Greggs bakery in the background, and a blue-suited gentleman reclining on the road, reaching for a nearby beer.
The original post was retweeted more than 25,000 times and his suggestion that the photo looked "like a beautiful painting" inspired a whole series of memes. A prime example of the "power and reach of images" in the social media age, said Hewson.
The public's interest in images is now greater than ever he continued. In fact, "Ten percent of all the photos taken by humankind have been taken in the past 12 months," said Hewson.
"The old saying goes that a picture is worth 1000 words but today they're worth one million likes. For example, Facebook images get 37% more feedback than text, tweets that contain images are 94% more likely to be retweeted than those without and Pinterest is now the third most used social platform.
"We really are entering the era of visual content," said Hewson, but he believes the industry is still in a period of transition. "Emerging technology, such as eye tracking data, is changing the way we work. But it is aiding advertisers that are desperate to engage with its audiences in new, polite, user-centric ways."
He added: "Despite the ad industry making great strides, we are still guilty of putting some very annoying ads out." Pop-ups, ads that are impossible to close, self-righteous and clickbait were all offered as examples.
So what does this mean?
"Advertisers need new ways to tell their brand stories and in an environment where users are. Which means these stories need to be told on the right screen, in the right moment and in a respectful way," said Hewson.
But seedtag has come up with a solution, claimed Hewson: "Our solution is highly viewable, brand safe, contextual, responsive, always relevant and it's polite and respectful of the user."
A case in point
Hewson backed up his claim sharing work seedtag did in partnership with an auto brand. The car maker wanted to reach undecided car buyers who were searching for new cars on its competitors' websites. They wanted to achieve an increase in test drive requests, online interactions and to generate leads to car dealers.
The seedtag solution was to use in-image advertising – a form of native advertising in which ads are placed at the base of static, editorial images on web pages as an overlay – to intercept and redirect these car buyers to the brand's products.
Then seedtag identified online articles about competitor models and used keyword and image analysis to target specific competitor models.
And the results were impressive, Hewson said: "Some 55,330,969 competitor models were intercepted, with an IAS viewability of more than 76%." And in a survey carried out by seedtag and Happydemics on users on the product interception campaign, "an extra 8.5%" of people looking to buy a car in the next six months were exposed and an "extra 10%" said they remembered the in-image.