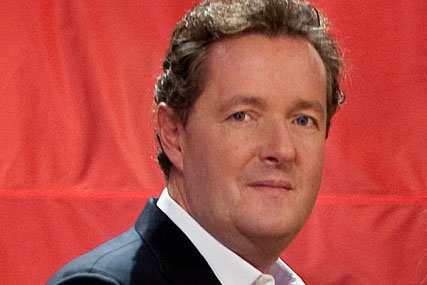 The announcement was made live last night on Larry King's show although the name of Morgan's new show is still under wraps.
The former Daily Mirror editor is understood to have signed a contract worth an estimated £5.5m. He is expected to take up the role in January.
CNN revealed Morgan "will host a candid, in-depth newsmaker interview program". The as yet unnamed program will air weeknights on CNN/U.S. at 9pm New York time and will air worldwide on CNN International in more than 200 countries.

Morgan said: "I have watched Larry King Live for much of the last 25 years, and dreamed of one day filling the legendary suspenders of the man I consider to be the greatest TV interviewer of them all.

"To now have the chance to work with Larry and Anderson [Cooper], and to try and continue the outstanding journalistic legacy created by them, and so many others at CNN, is both a great honor, and a great challenge."
Jon Klein, president of CNN US, said: "Piers has made his name posing tough questions to public figures, holding them accountable for their words and deeds. He is able to look at all aspects of the news with style and humor with an occasional good laugh in the process.

"He is a natural fit with Anderson Cooper, Eliot Spitzer and Kathleen Parker in our prime time line up, and the ideal choice to update the storied tradition of newsmaker talk on CNN."

Morgan became known for his work as a showbiz reporter on The Sun before Rupert Murdoch famously made him the youngest ever editor of the News of the World at 28 in 1994.

He moved to the Daily Mirror as editor in 1995 but was sacked from the role in 2004 after the newspaper conceded photos it published of British soldiers abusing an Iraqi were fake.

Morgan, who recently married Telegraph journalist Celia Walden, will be based in New York, and will also work from Los Angeles and London, CNN said.

He will continue to write his two regular sports and diary columns for the Mail on Sunday and he will also provide regular columns to CNN.com.
Morgan is also a judge on 'America's Got Talent', produced by CNN's rival NBC.
King announced he would be retiring from the nightly show, which he began in 1985, in June. The move was timed during a period of speculation about the fate of the programme that has recently seen a 36% drop in viewers.
In a statement, King said: "Twenty-five years ago, I sat across this table from New York Governor Mario Cuomo for the first broadcast of 'Larry King Live'. Now, decades later, I talked to the guys here at CNN and told them I would like to end 'Larry King Live,' the nightly show, this fall, and CNN has graciously accepted, giving me more time for my wife and to get to the kids' Little League games."
King is not expected to depart the broadcaster for good and is said to continue to do occasional Larry King specials.