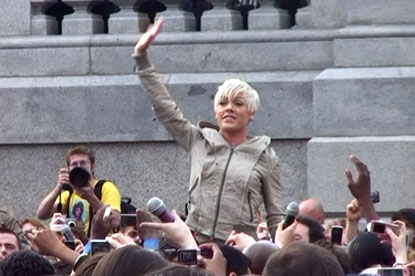 But rather than dancing, this event, organised by Saatchi & Saatchi, saw thousands descend on the square for a giant karaoke singalong to classic pop songs including Hey Jude, Is This The Way To Amarillo and Hit Me Baby One More Time.

The event, which was filmed by 20 strategically positioned cameras around the square, was hosted by Vernon Kay and featured a cameo by the popstar Pink.

Two thousand microphones were handed around for people to share, while live images of the crowd were projected on to huge screens.

The crowds contained a mix of the general public, around 200 placed professional singers, and a number of T-Mobile customers and "dance" fans invited via texts and Facebook groups.

The footage from the event will now be edited into a two-minute-long ad called "sing-along" that will break during ITV1's Britain's Got Talent this Saturday night.

Paul Silburn, the creative partner at Saatchi & Saatchi, said: "With 'sing-along', we wanted to generate a real feeling of anticipation and create a truly unique, memorable moment that everyone would want to share in.

"The event gave thousands of people the opportunity to experience first hand what 'life's for sharing' is all about."
More pictures and video footage to follow.