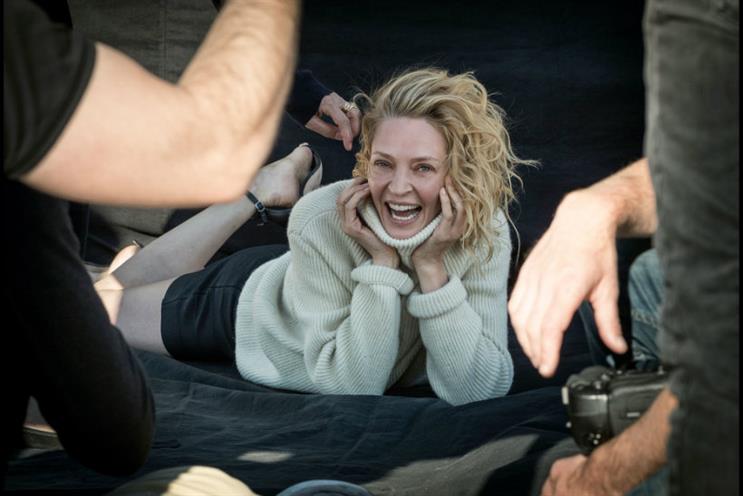 So with its use of older actresses – the likes of Julianne Moore and Helen Mirren – as well as a Russian professor of political theory Anastacia Ignatova, is Pirelli's calendar just paying lip service to feminism?
Well possibly, but at least the tyre manufacturer has recognised the need to move forward and away from the earlier objectification of women.
A different time
One of my earliest memories was sitting on my dad's lap in his office at home looking at the wall at an amazing mouth pulling on a cigarette being smoked in the classic 1969 calendar shot by Harri Peccinotti. Yes it was erotic, but it was also utterly mesmerising in its beauty.
Times have moved on – though Mirren has long been a staunch feminist, as anyone who has seen Michael Parkinson's excruciating attempt to interview her in the 70s will have seen.
The professional cachet of being in or photographing the Pirelli calendar is no longer a career-defining moment – rather something some people might feel rather ashamed of.
While the way beauty is defined or demonstrated has changed since those days, Pirelli was in danger of looking stuck in the past. And the daring young photographers shouting at us from the pages of The Face and iD made the established ones such as David Bailey and Terence Donovan that Pirelli relied on look fusty and permanently aligned to the same slightly sleazy (albeit glossy) era.
It's interesting to note that the company realised that it must wrestle with staying true to its brand values – of which its calendar was such a key part – while being seen to move with the times.
It's a great brief and one that the Italian tyre manufacturers have taken on with gusto. The use of Annie Leibovitz last year set the tone and the brand has followed this up by commissioning Peter Lindbergh to capture next year's calendar and re-frame what we've come to expect.
Celebrating self-acceptance
Lindbergh has clearly moved away from the current trend for super retouched and almost CG subjects, and moved toward a much more 'real' and classic sense of portraiture.
His subjects, although mainly actresses are also to be applauded, celebrating accomplished careers, substance and depth. These, including the hitherto unknown Russian academic, are people who have all contributed to the cultural world in which we exist.
It's perhaps an irony that while Pirelli will likely always be associated for its links to car garage porn calendars, whether it likes it or not, the whole issue of having a 'perfect' body is one that is still being played out on the highly edited pages of the newer medium of Instagram.
What Lindbergh seems to be doing with his series of photographs for the 2017 calendar is saying that self-acceptance and difference are to be celebrated. That women need not remove their clothes to be desirable and that what we connect with is texture and colour, or in other words, personality.
So Pirelli isn't just paying lip service, but in a world that is as full of boobs and bums as it ever was (and possibly more so); it's a conscious decision by Pirelli to be modern and relevant.