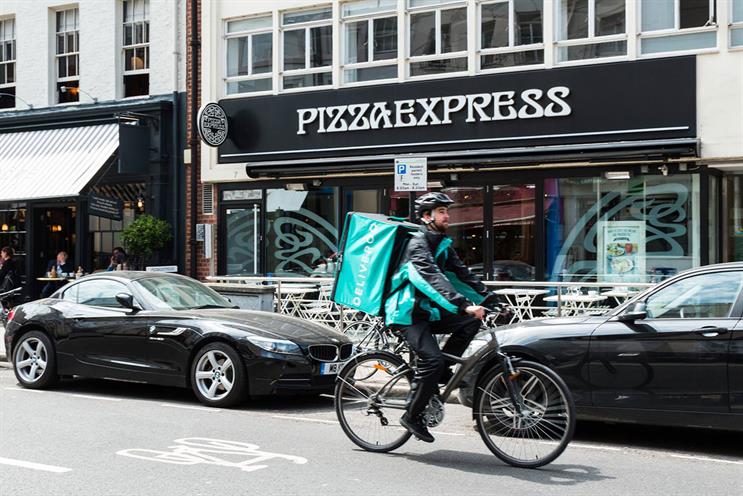 The deal is Deliveroo's largest to date and Pizza Express has 460 restaurants across the UK.
Deliveroo works by partnering with restaurants to deliver their food to homes and offices between noon and 11pm in an average time of 32 minutes. From 1 June, Deliveroo will start delivering meals from the pizza chain's restaurants in London, Leicester, Guilford and Manchester and from six restaurants in Dublin, where the chain is called Milano.
The service will be rolled out to 206 Pizza Express restaurants in July and four in Hong Kong. The plan is to eventually deliver from all of the chain's UK outlets.
In a statement, Deliveroo, which operates in 11 countries outside of the UK, said plans are afoot to expand the deal globally, beyond Hong Kong.
Pizza Express currently allows customers to order and pick up pizzas. Its pizza brand is also available in supermarkets in the UK. This deal will allow Pizza Express to better compete against Pizza Hut, which has a delivery service, and its Italian restaurant chain rivals Zizzi and Prezzo.
Richard Hodgson, the chief executive of Pizza Express, said: "It's been our long standing ambition to deliver our much loved pizza to customers at home; however the challenge has been to find a way to deliver our products nationwide, to restaurant standard."
"Deliveroo is a perfect fit for us, as they are dedicated to providing excellent delivery logistics to the restaurant industry," he said.
"When we asked customers for the one brand missing from Deliveroo, Pizza Express was always top of their list," Will Shu, founder of Deliveroo, told The Telegraph.
In March, Campaign revealed that Deliveroo, which has run advertising on the London Underground, was hunting for an agency to run its global media.
More recently, Deliveroo set up a giant slot machine in London Waterloo station, giving away free meals from partners including Hummingbird Bakery and Yo! Sushi.