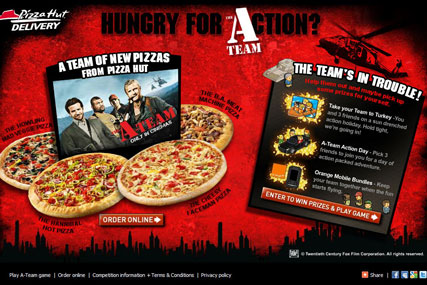 The "Hungry for Action" campaign was produced by digital marketing agency Blue Barracuda and includes a microsite, Facebook game, and online marketing campaign, which will promote the film and restaurant brand partnership and drive pizza sales.
The Facebook game, 'Hungry for A-Team Action', is built around the popular Facebook Pizza Hut game, 'Pass It Around Pizza'.
Players will have the chance to fight the American army as a member of 'The A-Team' and collect film themed pizzas including the Cheesy Faceman Pizza, the Howling Mad Veggie Pizza, the BA Meat Machine Pizza and the Hannibal Hot Pizza.

The game will be promoted on Facebook, Kiss 100 and ExchangeLabs along with a radio ad campaign booked by Starcom.
The ad campaign uses time targeted, demographically targeted, geo-targeted, contextually targeted and behaviorally targeted media to engage the appropriate consumers and sell pizzas.
Murray Willows, Pizza Hut chief marketing officer, said: "We have created a range of new pizzas to promote our partnership with this Summer's blockbuster action film, 'The A-Team' and the game is the perfect way to engage consumers.
"We liked the retro design of the last game Blue Barracuda created, the football-themed Pass it around pizza, which was incredibly successful, generating over a quarter of a million plays and counting."
'The A-Team' was released in the UK on 30 July.