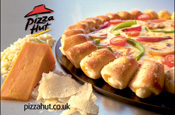 Although it plans to keep the same number of pizzas on the menu, from this week Pizza Hut will introduce eight pasta dishes across its 700 restaurants to support its new positioning. Nine restaurants will change their signage immediately.
Pizza Hut marketing director Claudia Nicholls-Magielsen said it was making the change because research showed that consumers wanted more variety when eating out, and that, on average, the British public ate more pasta than pizza. 'We want to be as famous for our pastas as we are for our pizzas,' she explained.
Nicholls-Magielsen admitted that the move was a 'bit of a shock tactic' designed to 'get people to feel differently about Pizza Hut'.
The name change will be supported by a multimillion-pound marketing campaign spearheaded by TV ads created by Abbott Mead Vickers BBDO, which break on 7 October.
Pizza Hut plans to invest £100m in its restaurants over the next six years. This year the company has spent £17m updating more than 100 restaurants with a more contemporary look and state-of-the-art equipment.
Watch the latest Brand Republic Video and hear the public's mixed reaction to Pizza Hut rebrand featuring a hilarious double act.