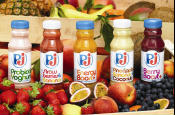 Since the brands acquisition in 2005 the drink has been in rapid decline with Marketing reporting a 70% drop in sales from £1.3 to £396,000 in the 24 weeks to 7 September, according to TNS figures.
Pepsi had hoped that by cutting prices by 30% earlier this year, the brand would become more mainstream, but a statement from Pepsi said: 'We have undertaken a detailed review of all our brands and, given the current climate, we recognise the importance of focusing on nest selling lines.'
In February this year PepsiCo unveiled Tropicana Smoothie, which it backed with a £4.5m marketing campaign encompassing TV advertising, sampling, direct mail and PR. The move was part of plans to double the size of the Tropicana brand within the next three years. PepsiCo will now concentrate efforts on the Tropicana brand following the decision to axe PJ Smoothies.
PJ Smoothies, which has eight flavours, was the first brand to launch in the UK smoothie market in 1994.
Pepsi have also announced that Pepsi Raw will be launched in mainstream retailers in a 250ml can in Boots ahead of a wider roll out in 2009.