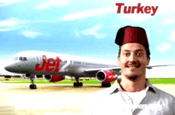 The ad, for flights with Jet2.com, showed a man in front of a plane, with different nations' hats appearing on his head as different countries' names appeared on screen.

This sequence ended with the slogan "book now".

However, at the time of broadcast, the company's Turkish route was still waiting to come into operation.

The ASA ruling said: "We noted Jet2 had not completed the process of establishing a route to Turkey when the ad was broadcast and therefore considered that to refer to Turkey as a destination was likely to mislead viewers."

It said that the ad's qualifying text, "advanced booking on certain routes", did not make clear that flights would not be available for booking until a future date.