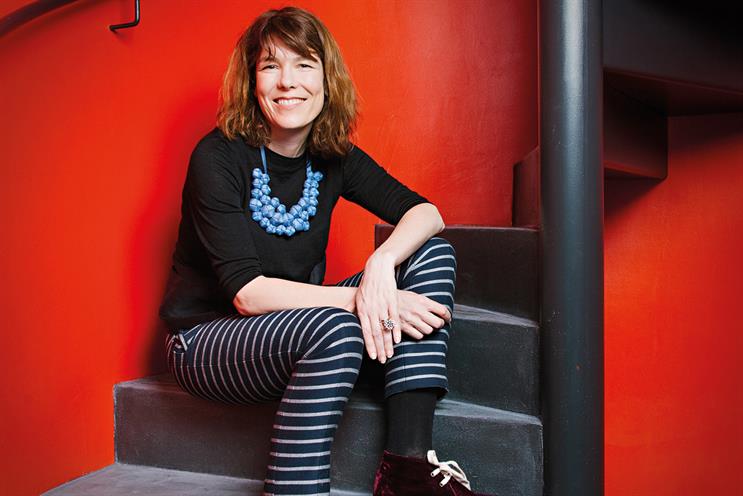 I didn't want a chief executive role. I was a confident and successful chief strategy officer. I wasn't a suit. Schmoozing clients wasn't my style and, to some extent, I thought that was a prerequisite of the job. I believed the accepted wisdom that planners don't make good CEOs.
But a year ago, I stepped out of my comfort zone and embraced the opportunity to run Grey London. In that time, my learning curve has been pretty much vertical and, despite my concerns about not fitting the mould, it turns out I'm good at it.
What's more, I've realised the industry needs more to make this leap. More Debbie Kleins and Laurence Greens. Great people planners who make great strategic suits.
Why? Because my biggest learning, aside from the practical changes of the job (more talk about finance, rocketing e-mails and discussions about careers), has been getting to grips with a more fundamental responsibility – balancing today's challenges with where we need to be in the years to come. Thirty years ago, many people preferred the ads to the programmes they surrounded. That's unthinkable today. A strategic approach is now more critical than ever.
I took over a business that was already in good shape. Seven years ago, David Patton started a transformation at Grey London that removed the bureaucracy and hierarchies getting in the way of talent and great ideas. The result was a highly successful new kind of agency culture: open.
So if it takes seven years to build a culture that works, I now have an opportunity to set the agenda for the next seven. We need a new fire – a new enemy to rail against. That fire is the death of our industry. Our general decline into irrelevance and exclusion from the white heat at the centre of culture.
If, like the traditional agency CEO, you're just looking for answers in your black book, then you're focused on the past. While my priorities as the CEO must be people, product and profit, as someone used to thinking about long-term brand issues, facing this fire is an exciting prospect. Never let the urgent overrule the important.
By their nature, good planners are comfortable with one foot in change, sowing seeds for the future. Once more concerned with solving individual client problems, I've turned a strategic lens on our own business that helps us evolve and best serve clients across the board for years.
That means continuing to build an excellent culture at Grey – a mecca for diverse talent that gets the best out of people. That means helping clients understand and define their role in popular culture and then making work of a different shape to help them realise it. This isn't advertising as we know it. It's the stuff people seek out, talk about, participate in or even use. Work that genuinely entertains or solves problems.
To change our product, we must shift the focus of our business and client relationships away from inputs (time) and outputs (ads) on to outcomes (cultural and commercial impact). And broaden our skillsets.
I've made embedding technology and data into the company a priority, hiring exceptional talent not normally found in creative agencies. And I'm accelerating progress through acquisitions. It gets us involved in clients' innovation processes, feeding into their R&D. That's a new conversation. One in which we make a meaningful difference to the guts of their businesses, not just the shiny surfaces. It gives us permission to own our intellectual property or license things so we earn money while we sleep.
It started with the reflective spray Volvo LifePaint. Wining two Cannes Grands Prix for its potential as a product, it now has a part number and is driving people into dealerships.
Since hiring the brilliant creative technologist Perry Nightingale, we're building things that impact culture and the bottom line – from the McVitie's iKitten app to mind-blowing exhibits for the Science Museum. All with our name on them.
That's the shape of work to come. But all this change needs a clear vision of the future from leadership and a culture committed to experimentation and exploration.
Across the business, we're breaking down barriers that allow people to self-limit. No-one has the same year twice. We've probably had more cross-department moves than any other agency and, as a result, we're building a multidisciplined and motivated team.
The reason I am a CEO today is because I didn't self-limit. I'm not the life and soul of the party but, the next day, clients still call me with their problems.
It works because I have a brilliant team. A crew who on any one day could cover each other's jobs.
Now I'm here and looking to the future, I know where the next seven years might take us. I want to make Grey London not just a great ad agency but a great creative company – a Heatherwick Studio, a Pixar, an IDEO – creating culture and designing products that benefit us, our clients and society at large. The best planners will help get us there.
Lucy Jameson is the chief executive of Grey London. She is running the "What does an agency leader want from a planner" session at the IPA's Strategic Planning course, which runs from 13 to 15 April.