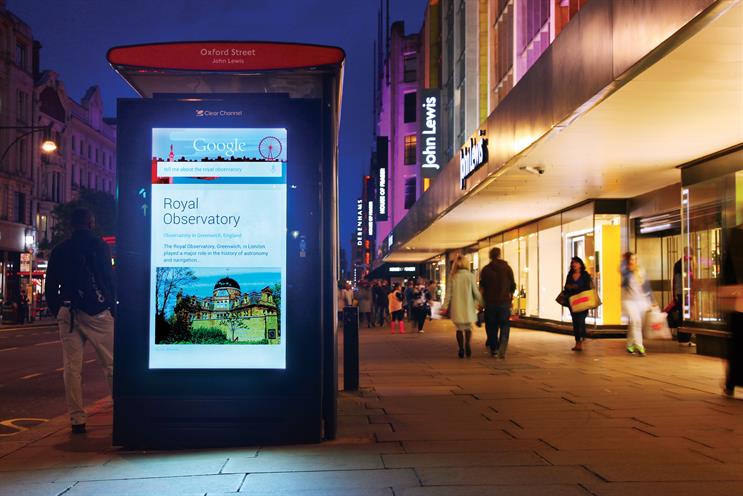 It is often said that, in life, change is the only constant. This has never been truer than in media today.
Towns and cities across the UK are being transformed, as is the behaviour of the people within them. New trends are being shaped by the growing influence of mobile technology on people and their ability to capture, curate and share their lives, from a single device.
What does this mean for advertisers? It means that, if they are to continue to engage with people who are becoming increasingly adept at blocking the thousands of messages that reach them every day, they must adapt – and the media owners they use must adapt too.
This week, Clear Channel UK announced plans for the next year that include the continued national roll-out of Adshel Live, Wrap and Storm – each powered by Play iQ, our intelligent inventory management system. The roll-out is the latest phase of our digital transformation, enab-ling advertisers to engage with people across the UK, on their terms, at an un-precedented scale. We also reaffirmed our commitment to Adshel: 35,000 roadside panels reaching 80 per cent of the entire population and providing the perfect backbone to any national campaign.
The need for world-class planning is increasingly important, as is the need for dialogue to deepen our understanding of what advertisers require from media owners. To reaffirm our commitment to this, we are proud to join Campaign's parent, Haymarket, in our tenth year of partnership, celebrating the very best that out-of-home can be.
In ten years of the planning awards, we have been offered a unique perspective on a decade of change. The inaugural Grand Prize was won by Magners with a campaign that, thanks to meticulous planning, made a huge contribution to the rejuvenation of the cider industry. This was successfully achieved via individually chosen roadside six-sheets, each displaying creative that supported the requirements of the location.
Ten years later, the same kind of thinking is evident with the "Google Outside 2.0" campaign, our most recent winner. This pushed the boundaries of location-based messaging. With 1,240 screens displaying thousands of hyper-relevant messages, it was a brilliant execution that used data, technology and local knowledge to display highly contextual and relevant content at every location.
A decade on, the conditions are changing, but the hallmark of a winning campaign remain just as relevant. As ever, our judges will be looking for brilliant strategic thinking, insightful use of research and, of course, demonstrable effectiveness.
---
Pick of the past winners
2013: Virgin Trains
This campaign's pinpoint targeting challenged travellers to rethink their mode of transport when it mattered most.
2012: Digital switchover UK
A smart, highly targeted campaign helping viewers prepare for the biggest change in UK television since the introduction of colour in 1967.
2007: Magners' GB launch
Our first-ever winner. This huge campaign contributed to a record boom in cider sales and started a change in the nation's drinking habits
For entry details, visit www.clearchannel.co.uk/planningawards
---
Chris Pelekanou, Commercial director, Clear Channel UK