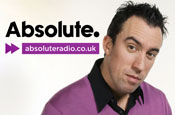 The rebrand follows a decision by Times of India not to continue licensing the Virgin brand, which reverts to its owner Virgin Enterprises.

TIML, which owns the station, is a subsidiary of Times of India group. The station is run by the three executives who founded radio consultancy Absolute Radio International: chief executive Donnach O'Driscoll, chief operating officer Clive Dickens and financial director Adrian Robinson.

TIML would have had to pay a further £8m to continue licensing the Virgin brand.

Branding agency Albion was hired to devise a replacement brand for Virgin Radio, but according to insiders, after considering several new names, the Absolute brand became the favoured option.

The decision was made more convenient by the fact that the company already owns the Absolute trademark and web domain name.

The company's two digital stations - Virgin Radio Xtreme and Virgin Radio Classic Rock - will rebrand to Absolute Xtreme and Absolute Classic Rock. In addition, both digital stations will now carry the main national AM station's breakfast and drive-time shows.

In addition, new Absolute Classic Rock and Absolute Xtreme shows will be hosted on the main station.

Dickens said: "DAB is a big driver for us going forward and we have to put great live content on DAB. Our two digital stations are effectively like +1 TV channels and, by sharing key talent and programmes, it allows us to cross promote the digital channels on the main station, like TV channels already do."

The company now aims to diversify its business into areas such as TV, event ownership and services such as an online music subscription offering.

TIML earmarked £15m to develop and market the new Absolute brand. A major part of this spend will be used in a 16-week intensive multimedia marketing burst after the brand officially changes on 28 September.

Commercially, Absolute aims to increase the proportion of revenue it derives from branded content activities from 30% to more than 50%, as well as increasing its digital revenue, which accounts for 8% of total revenue.